Four local plays join the festival line-up this year, and they all celebrate our diverse culture.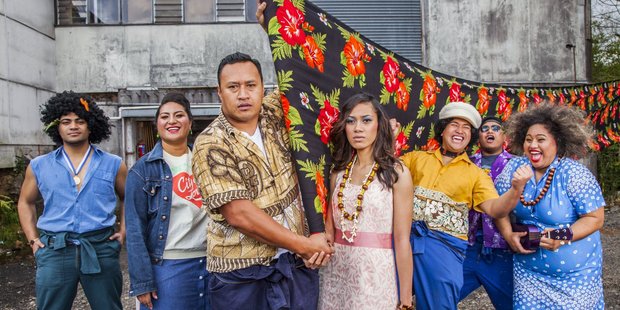 From Mangere to Auckland City - next stop, New York? If Vela Manusaute and Anapelo Polataivao get their way, the world's first Pacific musical, The Factory, could go international - but for now the founders of performing arts group Kila Kokonut Krew are concentrating on making an impact at the Auckland Arts Festival.
The Factory is one of four local theatre productions to win a place on the festival programme. There has been some comment about whether four are enough - especially as two of them have been staged in Auckland before.
Festival artistic director Carla van Zon says carefully considered choices were made based on a number of factors. These included how each piece would fit within the festival as a whole, how it would complement - and be complemented by - international theatre shows, how it might reflect Auckland's changing demographics and the stories at the heart of each production.
"It is important to have our city, and our country, strongly represented and I wanted Maori and Pacific work to form the heart of the festival," van Zon says. "The stories have to be about our place. If you look at the programme as a whole, there is a great deal of local work because we are crossing all art forms."
Theatre-makers pitched their work to the festival through an application process, with potential projects shortlisted, presented at hui and workshops and further reduced until the final four were chosen. Three more pieces are being developed for future festivals while others were of a high quality but "not right" for this festival.
Van Zon would also like to see more plays from contemporary New Zealand-Asian theatre-makers and strong Pakeha stories. "The fact is we don't see that many [Pakeha stories] coming through and we are always looking for a really good one."
She wanted work portable enough to be taken to venues around the region - I, George Nepia will move between Warkworth, Auckland City's Q Theatre and Mangere Arts Centre, while Hui will also play at Mangere Arts Centre and Q - while working with Auckland Theatre Company on a community-oriented project was a priority, as was finding a powerful Pacific piece.
The Factory, performed in Mangere in 2011, has been further developed and the story reworked for its season at Q Theatre (March 6-11). The musical, about Pacific migrants who come to New Zealand looking for a brighter future, is now set in the 1970s - the era of the dawn raids - and has a new cast and songs. The soundtrack ranges from 70s disco to soul and Pacific Roots, and performers are accompanied by a live band.
Creator Vela Manusaute, clearly thrilled by its inclusion in the festival, says it is an opportunity to work with a production team with experience specific to musical theatre, which is valuable professional development, and will benefit Pacific performing arts as a whole.
He says setting the story in the 1970s and adding new songs meant fresh demands for the cast, so the decision was made to hold large-scale open auditions and recast: "We are taking the show to another level; everyone has to be willing and able to step up."
Van Zon says a number of theatre-goers who may not have been willing to travel to South Auckland to see The Factory would have missed the chance to see a "deeply potent story" that reflects the experiences of many migrants to Auckland, so she decided to bring it into the central city as part of the festival.
Similarly, van Zon sees I, George Nepia, which first toured as part of the Rugby World Cup cultural programme, as worthy of a repeat (Mahurangi College, Warkworth, March 8; Q Theatre, March 13-18; Mangere Arts Centre, March 21-23).
Actor Jarod Rawiri plays the New Zealand rugby legend in a one-person show focused on Nepia's personal and professional story. Rawiri, a father of four, says playing Nepia has taught him so much about the man behind the sporting legend and his ability to cross cultural boundaries simply by being himself. He says resuming rehearsals has been like meeting up with an old friend, and he's thrilled to be performing in an arts festival in his home town.
"It's a privilege because we know we are at the heart of a festival where the quality of the work is of such a high standard. It's an incentive to do it and do it well, and I enjoy the fact people can learn about a great New Zealander."
A home-coming is central to Mitch Tawhi Thomas' award-winning Hui (Mangere Arts Centre, March 8; Q Theatre, March 16-23). After 20 years, four estranged brothers meet following the death of their father, but there's a twist - one of the brothers is now a sister.
Produced in association with Silo Theatre, Hui makes its debut at the festival. Inspired by a family reunion about 13 years ago, Tawhi Thomas says Hui reunites him with friends and creative collaborators Rachel House, Sean Coyle and Jennifer Lal.
That the play has been so long in the making has paid off. Even before its first staging, Hui won last year's Playmarket Adam NZ Play Award, adding to the collection of awards - which include the Bruce Mason Playwriting Award and a Chapman Tripp - Tawhi Thomas has for his earlier work.
Dominion Road Stories (above) stages an outdoor adventure in 'Chinatown'; Hui (right) invites men to take a close look at themselves.
On the factory floor
Playmarket director Marry Lynch says the characters in Hui have been absent from our stages, and the "testosterone-fuelled provocation" invites the male population to look closely at themselves.
The cast includes Stephen Butterworth, Xavier Horan, Tola Newberry and Maaka Pepene.
Auckland Theatre Company's Dominion Road Stories pays homage to one of the city's oldest neighbourhoods through four free and ticketed performances at various sites close to Potter's Park and opposite ATC's Dominion Rd headquarters.
Created under the auspices of ACT's Participate, an outreach programme which brings together professional theatre-makers and local communities, it comprises four shows which highlight various aspects of the road's lively history. They take place on March 16 and 17, with a family picnic at Potter's Park on Saturday (March 16).
At the Balmoral Bowling Club, the senior citizens' troupe ATC Marvellous Company performs the comedy caper Bowled Over by Kathryn Burnett, in which they face off against developers trying to take over their much-loved club.
In Walk Eat Talk, audiences are invited to enter Dominion Rd's "Chinatown", where the side streets, alleyways and restaurants become the stage for an outdoor adventure culminating in a shared meal.
The day opera singer Pavarotti came to town is remembered in Pav On Dom, presented with the Auckland Philharmonia Orchestra. And there is live music, sing-along arias and comedy in APO's rehearsal room.
Saturday's entertainment ends with a finale featuring musician Don McGlashan in Potter's Park. The evening, MCed by Mark Hadlow, celebrates Balmoral's history as the dancehall hub of Auckland and will feature dancer Candy Lane and a flash mob of more than 100 volunteer dancers.
ATC associate director Lynne Cardy says the project has been in the planning since the company moved from Britomart to Balmoral two years ago. Cardy says a work such as Dominion Road Stories was a "terrific opportunity" to demonstrate how a theatre company can be part of a central-city neighbourhood.

Auckland Arts Festival
What: Auckland Arts Festival New Zealand Theatre line-up
Where and when: Various venues, March 6-24