British actor Jim Broadbent talks to Scott Kara about his inside knowledge of dementia and why he's well qualified to play a man who's 'losing his marbles'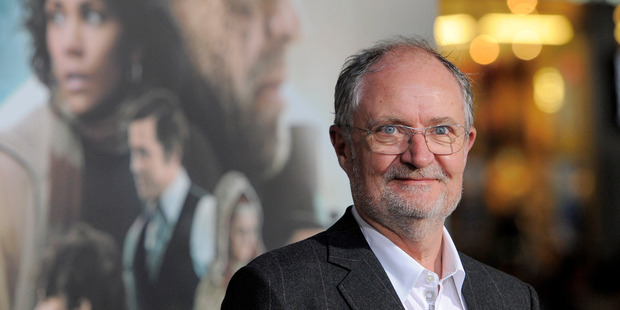 Jim Broadbent's latest role - a once-fearsome journalist who has succumbed to Alzheimer's - is what the British actor jokingly refers to as part of his "trilogy of dementia work".
His first and most famous role that dealt with the disease was in 2001 film Iris, where he played John Bayley, the devoted husband of novelist Iris Murdoch (played by Dame Judi Dench), who suffered from Alzheimer's.
He won an Oscar for it, and remembers the film fondly, and wonderful lines - because as you will see, Broadbent is big on good scripts - like Dench's: "There is only one freedom of any importance whatsoever, that of the mind."
"Oh, it's a wonderful line, isn't it?" he says on the phone from London. "And that's where we go when we really want to be free, isn't it?"
In 2011 he starred as Denis Thatcher, the dead husband of Margaret Thatcher (played by Meryl Streep) in The Iron Lady, which dealt with the former British Prime Minister's battle with dementia. In the film, Broadbent was a nagging and often flippant and frustrated figment of Thatcher's imagination.
But now, in three-part BBC psychological thriller, Exile, which starts on UKTV on Monday, March 4, he's the one playing a character in the grip of the condition.
Exile tells the story of Tom Ronstadt (played brilliantly by John Simm, best known for Life on Mars and State of Play among other things), who's a successful but cut-throat journalist. In fact, Tom is a wretched and selfish cocaine-snorting, whiskey-toting sod, yet somehow Simm makes you like him. When his life turns pear-shaped, he resolves to return to his hometown for the first time in 18 years, where he comes face to face with his sick father Sam, a once-formidable journalist himself.
Broadbent is reluctant to talk too specifically about Exile because he filmed it last year and his memory is a little hazy. And yes, he does see the irony in that, joking, "honestly, I can't be succinct about it".
"It's complicated, an incredibly complicated scenario, with all sorts of things going on. Deception, forgiveness, and the obvious - somebody with a very bright, sharp mind who is disintegrating. It's about a father and son relationship essentially," he offers.
Sixty-three-year-old Broadbent was born in the tiny Lincolnshire village of Holton cum Beckering into an arty family, with his parents both artists and amateur actors.
Incidentally, he reveals, just before TimeOut's allotted interview time runs out, that his sister-in-law is Celia Wade-Brown, the Mayor of Wellington. "Yes, but we haven't visited for a while," he says in his almost scuttling, slightly mumbled British accent.
He graduated from drama school in London in 1972 and worked mainly in the theatre, and some television, until he made a name for himself in British director Mike Leigh's renowned 1990 film, Life Is Sweet.
Roles in The Crying Game and Topsy Turvy (another Leigh film) followed, and these days many may still remember him best as Bridget Jones' kind and loving dad. Or perhaps as Harold Zidler in Moulin Rogue! or Horace Slughorn in Harry Potter and the Half-Blood Prince.
But it's roles like Sam Ronstadt in Exile where Broadbent is at his best, putting him up there with other great British actors like Michael Gambon, Ian McKellen and Bill Nighy. It's almost as if the parts he plays are written for him.
"I try not to have a style because I let the script define what the style is. And on the whole I like playing characters who are a bit further away from me than normal."
The chemistry between Broadbent and Simm makes Exile a gripping and disturbing series, but there are many moments of laugh-out-loud hilarity, like when Tom, in a desperate bid to trigger his father's memory, is asking him about his former editor and what he was like, to which Sam replies: "The guy's an idiot. Calls himself Oxford-educated. He couldn't write 'f***' on a dusty blind."
"It's quite good and eloquent, coming from someone who's losing his marbles," laughs Broadbent.
Although he can joke about dementia, Broadbent has also had first-hand experience of what the disease does to people, after helping nurse his mother through Alzheimer's.
"The reason I was drawn to Iris in the first place was because of my mother. I knew it was a very good [and accurate] script because I had an awful lot to do with the disease. She was still only in her 50s and in the nursing home. So I knew what the condition was. And Judi Dench did a very honest portrayal of someone who was suffering.
"It was the easiest thing in the world for me to relate to. It was just obvious to me."
There is a scene in Exile, where Sam and Tom are looking at old family photos, that was particularly poignant for Broadbent. "It's something I remember doing with my mother. It's sort of like opening tiny doors, like an advent calendar and seeing the pictures. It would stimulate her memory with these very precise and accurate moments. And then it would just frustratingly shift.
"The condition evolves very quickly, it can be one thing one day and then the next week it will change and have gone on to another level. It's devastating in that way."
These days he admits he's "quite picky about what I do, but I do tend towards dark humour on some level", he says with a chuckle. But though he may come across as a little reticent about his career, you can still tell he's passionate about acting.
The reason he liked Exile so much is because it took him back to working on two of his other favourite projects, TV series The Street, written by Jimmy McGovern (Cracker, The Lakes), and film Longford (in which he played Lord Longford, who fought for parole for Moors murderer Myra Hindley).
For starters, all three were based in and around Manchester and he says Exile (written by Danny Brocklehurst) comes from "the Jimmy McGovern school of writing".
"It's much easier to work with good writers," he deadpans, "because actors can't make bad scripts good. So as long as the script is good, I like it."
Who: Jim Broadbent
What: Exile, three-part psychological drama starts Monday, March 4, UKTV
Past work: Life Is Sweet (1990); Crying Game (1992); Topsy-Turvy (1999) Bridget Jones's Diary (2001); Moulin Rouge! (2001); Iris (2001); Longford (2006); Harry Potter and the Half-Blood Prince (2009); Harry Potter and the Deathly Hallows - Part 2 (2011); The Iron Lady (2011)
- TimeOut