The Offspring have kept their punk-pop spirit alive after more than 25 years on the road, writes Scott Kara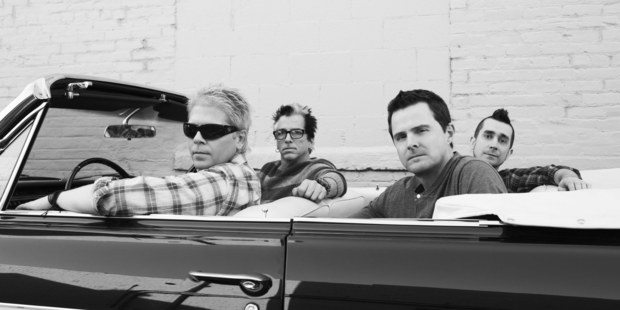 Dexter Holland, the spiky-haired loudmouth of The Offspring, has a wry chuckle when it's suggested to him that his band went through an outrageously gimmicky period in the late 90s.
You know the song - Pretty Fly (For A White Guy), the one that goes, "Give it to me baby. Uh-huh. Uh-huh" - it was one of the most annoyingly catchy pop tunes of the decade.
"Oh come on, we're still gimmicky," jokes Holland. "No. No. Don't print that. That's off the record. But no, there has always been a fun side to our band. There's always been the fun stuff. And it's not just Pretty Fly, there are lots of songs like that, but even on Americana [the album the single came off] there was The Kids Are Alright, which was a very serious song. So there are both sides to our band I think and we like that, and we're okay with it."
And after more than 25 years in the pop-punk game - "Don't do the math, don't do the math," he hoots - he and original bandmates Noodles and Greg K are at the point where they're happy to still be going, playing shows and releasing records (their ninth album Days Go By came out in June last year).
"Who would have ever thought that we would still be a band making music. The fact it's our ninth record is amazing to us. And we still love what we do.
"We just try to keep the same spirit of the band that we've always had, as well as trying to venture out in new ways to keep it sounding fresh.
"The key for us is not limiting ourselves at the start [of the album]. So we come up with ideas and try not to analyse it too much and say, 'Oh, this doesn't sound like The Offspring,' or whatever. So we just put it down and then sort out what we want to keep and what we want to throw away later."
Still, Days Go By doesn't veer too far away from the trademark Offspring sound of fast guitars, a heavy bounce and all-in gang choruses punctuated with "whoas" and "heys" - and there are a mix of chest-beating, call-to-arms-type tracks like Secrets from the Underground, and then silly and fun songs like Cruising California (Bumpin' in My Trunk).
The Offspring return to New Zealand for a show at Vector Arena on February 27 in support of Days Go By. It's their first time here since 1999, when they played the North Shore Events Centre. Though they will be playing new songs, it will also be a greatest hits set.
In Australia, where they are one of the top drawcards at the Soundwave Festival, they are getting even more nostalgic by doing extra shows where they will play second album Ignition in its entirety to celebrate the record's 20th anniversary.
Though that album is not as well-known as follow-up and break-through album Smash, and Americana, it was a formative time when their fanbase started picking up, meaning the band were able to pack in their day jobs.
"We played Ignition for a lark in Los Angeles at really small clubs last year, and people showed up and a lot of people really know that record, which was a big surprise to me because they didn't come when the record was out," he jokes. "I guess it had a little time to sink in. But people were going bonkers."
When Offspring released their self-titled debut in 1989 and then Ignition in 1992, Holland was still a university student and his mate Noodles was a janitor-cum-caretaker at a school. "He said it was funny to him because he was at an elementary school and the kid would walk by him and he'd be cleaning up vomit and they would say, 'Mr Noodles, I saw you on MTV this morning. What are you doing here?'
"I mean, we all had jobs, Greg lived at home and we just did it [the band] because it was fun."
And he believes the reason they have stayed together as a band for so long goes back to the fact they grew up as friends at high school and played in a band together just because they loved it. "We stayed friends for 10 years while the band didn't do anything," he says. "We never thought we would make it. We just loved playing punk rock, which was not a very popular thing at the time. Bands that were popular were Guns N' Roses and stuff, and God bless 'em, those bands were great but it didn't speak to us and what we wanted to do with the band."
It was the song Come Out And Play, and follow-up single Self Esteem from the Smash album, that made them superstars and helped them - along with contemporaries Green Day and NOFX - popularise pop-punk.
"It was really interesting to see it all of a sudden take off because we had been a band for 10 years, messing around on the weekend and stuff, but all of a sudden we do Smash and it took off so fast and eventually we made the jump, quit our jobs and decided to go on the road."
And they haven't stopped since - not that music is all they do. Among other things Holland has a masters in molecular biology, and though he can't see himself ever being the guy in a lab coat he is hoping to do more work with New York-based charity The Innocence Project, which works with people who have been wrongly convicted and clears their name using DNA evidence.
"Sometimes they have been in jail for so long that they didn't do those tests back then. They've freed more than 300 people - and what a great cause, and what a great way to use something like genetics and stuff.
"So we've got other things going on. Noodles likes to surf, Greg plays a lot of golf and I make hot dogs," he says, possibly referring to the Gringo Bandito Hot Sauce that he's created.
"But we love being in a band, releasing records and touring too."
Who: The Offspring
What: Pop-punk veterans still going strong
Where & when: Vector Arena, February 27
Essential listening: The Offspring (1989); Ignition (1992); Smash (1994); Americana (1998); Conspiracy of One (2000); Days Go By (2012)
-TimeOut