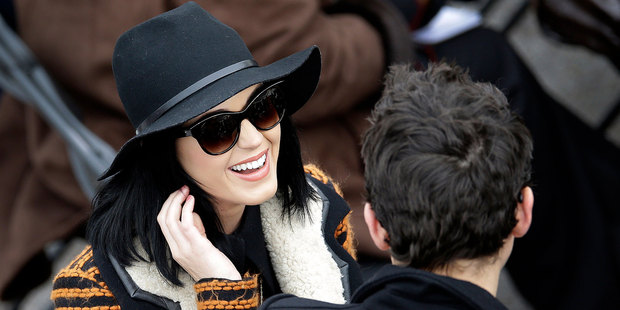 Did John Mayer put a ring on it? Affirmative.
But cool your jets, it's not what you think.
Katy Perry, 28, was snapped sporting a heart-shaped ruby ring on that finger after a romantic Valentine's Day dinner at Vincenti, an Italian restaurant in Los Angeles, with on-again beau Mayer, 35. The rumour mill soon went into overdrive, sparking speculation that the pair may be engaged.
Mayer is believed to have purchased the one-of-a-kind ring from Santa Barbara's high-end jewellery designer Daniel Gibbings.
Described as a 20K Petite Gold Cabochon Ruby Heart Ring, Radar Online reports that it had a price tag in the US$5,000 range.
A rep for the jeweller told People magazine that Mayer picked out the sparkler himself.
Check out the finger bling here.
Perry was rumoured to have been wearing a similar ring at last weekend's Grammy Awards 2013 ceremony.
So, is Perry really revving up to trot down the aisle again?
While a rep for the Wide Awake singer isn't commenting on the rumours, a source tells People.com that the couple is "not engaged".
Echoed another source to HollywoodLife.com: "They aren't engaged and I wouldn't anticipate to see them engaged anytime soon."
According to British tabloid The Sun, Mayer hasn't pop the question, but he did fork out for a commitment ring to celebrate them moving in together.
"He's trying so hard to prove that his bad behaviour towards women has changed now," said a source.
"He saw the ring and thought it was a perfect gift for Valentine's Day.
"She loved it. There's no way she's ready to get married yet so a commitment ring is perfect."
Chimed another: "Katy has never been happier. She's in a really good place with John. Katy's parents also really like John. They prefer him over Russell. They thought Russell was too temperamental."
Mayer and Perry first stepped out as a couple in early August. Just a few weeks later, the romance was rumoured to have hits the skids. But they patched things up, only to briefly split again in early January. Talk about hot and cold.
Perry was previously wed to British comedian Russell Brand. The two separated after 14 months in December 2011; their divorce was finalised in July 2012.
Mayer has been linked to a slew of Hollywood beauties over the years, including Jennifer Aniston, Jennifer Love Hewitt and Jessica Simpson.
The singer-songwriter, who infamously referred to Simpson as "sexual napalm" in a 2010 interview with Playboy magazine, recently admitted that he was a "jerk" in some of his past relationships.
In an interview with CBS Sunday Morning, Mayer commented on his reputation as a heartbreaker.
"I was just a jerk. It's very liberating when you finally realise it's impossible to make everyone like you," he said in the interview. "I wanted everybody to like me. I thought I was one shuck and jive away in every direction."
He said of his relationship with Perry: "For the first time in my life, I don't feel like I'm in a celebrity relationship, I really don't.
"I'm not in a high-profile - I know it's high-profile, it's hard to explain. It doesn't feel that way to me - and great. I'm glad.
"For me, it feels like something that's very human," he explained.
Asked if he wants to walk down the aisle someday, he replied, "Of course!"
"I mean, I'm still the kid from Connecticut," he said. "That's what you do."
Check out Mayer's CBS Sunday Morning interview below:
Russell Brand recently opened up about ex-wife Perry in a radio chat with US presenter Howard Stern.
"What do you make of your ex-wife dating John Mayer?" Stern asked Brand during his show. "Doesn't she know that he's a worse womaniser than you?"
"Worse or better, depending on how you view it," Brand quipped, adding, "You have to let go of the instinct to protect someone once you divorce them."
Brand also spoke about his rumoured relationship with Demi Moore.
"I really like her. She's a beautiful person. I've not made love to her yet, but it's a matter of time. That's the sort of thing that'll get in the newspaper.
"I'm not dating anybody. Actually, I'd like a romance," he added.
"Not so much playing the field, just going through life, meditating, doing yoga, concentrating on this TV show and trying to find a nice wife."
FAST GOSSIP
And finally...
* Mother of Lindsay Lohan's ex Samantha Ronson spills on their former relationship.
* Celebrity feud continues as Black Keys drummer Patrick Carney changes his Twitter name to Justin Bieber.
* Mary J. Blige hit with huge tax bill.
* Country singer Mindy McCready dies at age of 37.
* Rolling in the chips: Adele reportedly mulling over a Las Vegas residency.
* Rumour has it: Jennifer Aniston weeks away from marrying.
* Director Bryan Singer says X-Men: Days of Future Past will "correct a few things" from the previous instalments .
* Jennifer Lawrence and Bradley Cooper reuniting for another film.
* Beyoncé tells Oprah she "definitely" wants another baby.
* Harry Styles addresses Taylor Swift split: "I'm good".
* The Good Life star Richard Briers dies aged 79.
Follow Myrddin Gwynedd on Twitter.
- Rumour Has It