It's been a colourful career for English actor Tom Hollander, the star of quirky church series Rev Luaine Lee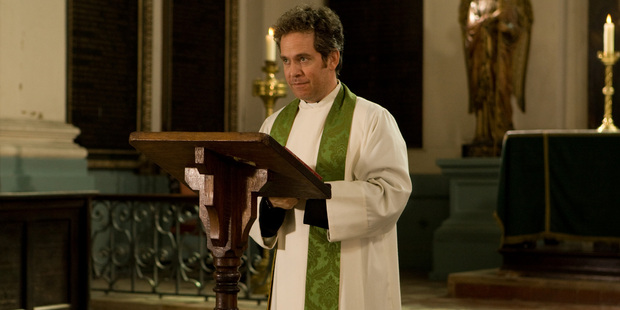 Tom Hollander has spent a lifetime as an actor, but he thinks the profession is harmful to your health. The British actor has co-starred in productions such as Pride & Prejudice, Pirates of the Caribbean: At World's End, Absolutely Fabulous - and now Rev, which is in its second season in New Zealand on UKTV.
Since he was 11 and held out his chipped plate begging for more in his school production of Oliver, Hollander has been unable to resist.
"It's just 'let's pretend'," he says. "I think everyone likes that. Everyone as a child likes let's pretend and I suppose I haven't grown out of it."
He says his parents were "cautiously supportive" of his mission, but they were always worried. "It's quite a disruptive sort of life. Show business isn't particularly healthy for people I don't think, mentally ... which is why people in show business when their children say, 'I want to be an actor too', their parents always wring their hands and say, 'I tried to stop them'.
"But they never manage it. It's not a healthy thing to do, but it's our life."
It's been a colourful life for Hollander, 45, a life of touring companies, Shakespearean plays, TV series and voiceovers.
Of course, it hasn't all been sceptres and sabres. Hollander remembers his struggling days.
"I had a couple of years in the beginning where I worked as a toy demonstrator in shops. I was young and it was all right. In Britain you don't make huge amounts of money as an actor, the way you do in the States. In the US the stakes are much higher. You're more likely to be living the 'peanut butter' life statistically, but then if you make it, you make real money," he says.
"In England, you're more likely to be working because there's so much theatre and also because we're English speaking we get to work in the American industry, which is very fortunate. British actors have a lucky time because they get to work in both countries ... So you can have a working life as an actor without becoming a superstar, which is perfectly fine in England. Here you get a TV show and when that show is cancelled, maybe you get another one, maybe you don't. There's not a whole lot else to do."
He says making Rev changed him because he not only stars as the comic vicar, he co-created the show with James Woods. "It's giving me a feeling of weight because it was having an action that has real consequences. If you're an actor, none of what you're doing is real. If you're collaborating with a writer it turns into a real show, and you make real decisions about casting and story lines. You write bits of it. That's changed the way I feel about myself."
And another event changed him, he says: "I went swimming when I was 14 and had to be rescued by my sister ... I learned how to swim afterwards, and I swim quite a lot because I didn't ever want that to happen again."
TV profile
Who: Tom Hollander, star of Rev
When and where: Series two starts 8.30pm tonight, UKTV
- AAP