Hearts are sure to flutter as latest NZ visit begins on St Valentine's Day in Hamilton.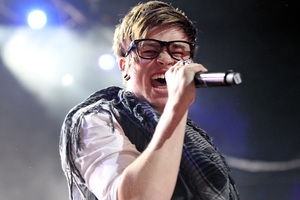 The first time Reece Mastin came to New Zealand, at a public signing session at an Auckland mall last year, the event had to be cut short when several teenage girls fainted.
A year later, the singer, who won The X-Factor Australia in 2011 at the age of 16, will open his second New Zealand tour.
Mastin will begin his Kiwi sojourn with a St Valentine's Day in Hamilton.
Mastin has quickly built on his Australian success. His self-titled debut album reached No 1 and subsequently achieved platinum status, both in New Zealand and Australia, while his recent DVD, Behind Closed Doors, also topped the charts.
Mastin's latest visit is to promote his second album, released late last year. The 15-song Beautiful Midnight continues his run of pop-rock, radio-friendly singles such as Shut Up and Kiss Me and Shout It Out - in short, designed to prompt singalongs.
Yet, despite the shiny production, Mastin says he's always been a sucker for a distorted guitar.
"When I was young, I would listen to all my Dad's old records. I got into Guns N' Roses and Aerosmith. I listen to as much music as I can but my first love would be rock music," Mastin says by phone as he prepares for yet another show in Australia.
"We did a stadium tour, which was about 10 shows in Australia, and now we are 10 shows into the regional tour, with another eight or nine to go before we go to New Zealand," adding he plans to head to Los Angeles soon to begin work on new material.
"I have always written songs." Mastin says he enjoyed collaborating with writers on his new album.
"I don't think it required any compromise. The best thing about it is you can bounce ideas off other people. Someone will come up with an idea that will take you to another level.
"It works in weird ways sometimes. For example, with Shout It Out, I had the lyrics done and we had a lot of fun mucking about. A lot of the time I'll try to go with an idea and it'll get twisted a little."
On the subject of twisted, Mastin has witnessed the darker side of media exposure.
Following the announcement last year that he was dating Rhiannon Fish, an actor on Home and Away, the young woman received death threats on Twitter.
"At the end of the day, I know who my real fans are," Mastin says. "Now I can't even mention her name during a show without people screaming [in support].
"I have always told others who are thinking about entering such shows that they need to make sure they are ready for what's going to come. It is hard work. Everything you do is on social media or the news."
Tour preview
Who: Reece Mastin
When and where: Tomorrow, Founders Theatre, Hamilton; Friday, Auckland Town Hall; Monday, TSB Showplace, New Plymouth; Tuesday, Regent on Broadway, Palmerston North; Thursday February 21, Michael Fowler Centre, Wellington; Saturday February 23, CBS Canterbury Arena, Christchurch, Regent Theatre; Sunday February 24, Regent Theatre, Dunedin.