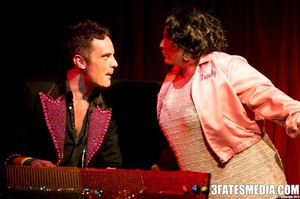 As part of Auckland's expanded Pride Festival, an enterprising Australian-Kiwi partnership offers a sweetly flavoured piece of musical theatre focusing on the emotional symbiosis that often develops between gay men and single straight women.
A collection of finely crafted original songs supply a glittering showcase for the talent of composer Jamie Burgess and the versatile voice of Aussie diva Nikki Aitken.
The show is an extended love letter to joys of musical theatre with witty lyrics, oodles of ironic humour and big bombastic displays of emotion all held together by the jaunty rhythms and elegant flourishes of Burgess's keyboard playing.
The gay perspective, with its appealing mix of irony and empathy, throws up some sharp observations on the bankruptcy of modern romance and the narrative illuminates the desperation of a single woman caught up in a never-ending quest for a suitable man while pursuing the equally elusive rewards of a show-biz career.
Aitken has an engaging stage presence and her expressive voice finds poignancy and humour in familiar scenarios - the preparation of an elaborate meal for a man who is never going to show, the awkwardness of small talk on a blind date and the painful hangover full of regret and self-loathing that follows a night of indulgence.
Both performers establish a strong connection with the audience and although the show would have been better suited to cabaret setting, the opening night crowd was gently cajoled to join in everything from sing-alongs to assisting with costume changes.
Cabaret
What: Gobsmacked! Showbiz and Dating
Where: Maidment Theatre, Musgrove Studio until February 17