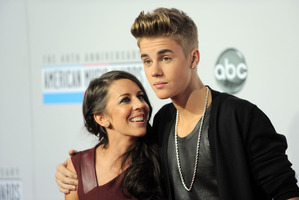 Justin Bieber's mother wants him to get back together with Selena Gomez.
The 18-year-old popstar's mother Pattie Mallette has reportedly been urging him to reconcile with the Spring Breakers actress because she feels his ex-girlfriend is a good influence on him.
The on/off couple split in December after two years, with Selena allegedly being unhappy with Justin's neediness and his circle of friends.
A source explained to RadarOnline.com: "Justin's mum has always been very close to Selena, and she's impressed by what a good influence she's been on her son. Pattie's been pushing hard for Justin to get back with Selena. However, Selena doesn't want to associate with the crowd Justin's been hanging out with lately as she thinks they're not to be trusted."
The 20-year-old actress is said to be unimpressed by her ex-boyfriend's recent antics - including photos of him allegedly smoking marijuana being leaked online - and feels Justin's friends are to blame.
"It was one of Justin's supposed friends who recently sold photos of him allegedly smoking weed," the source said.
"Selena is very careful who she spends time with and is very suspicious of people she doesn't know - she doesn't want to be with Justin all the time as he's surrounding himself with what she thinks are really shady people."
However, the Baby singer's mother is hopeful the former Disney actress could help him turn things around.
"Pattie believes though that if Selena would just get back together again with Justin she could soon get him back on the straight and narrow."
Selena - who is said to be struggling to cut off all contact with her ex - reportedly spent the night at Justin's home in Los Angeles last week and she was spotted leaving, accompanied by his bodyguard, on Saturday morning.
- BANG! Showbiz