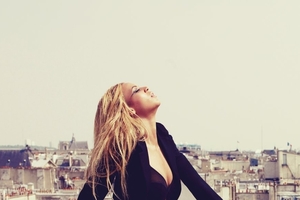 Beyonce's daughter Blue Ivy Carter has found her voice.
The Crazy In Love singer - who is performing the half-time show at the Super Bowl in New Orleans on Sunday - has revealed her one-year-old daughter is starting to talk and that motherhood is her most fulfilling role to date.
The 31-year-old star told the NFL Network's Super Bowl Live show: "When I wake up in the morning, the best thing in the world is seeing her face. She's starting to talk. It's just such a beautiful time in my life to have a child and every day see something new and see her learn something new."
Beyonce also admitted that none of her past achievements compare to being a mother, saying it is "so much more fulfilling than anything else in the world. I love it."
The Grammy Award winner - whose new tour will reportedly be called The Mrs. Carter Show, a tribute to her husband Jay-Z, whose real name is Shawn Carter, said he is very supportive and helps her juggle being a parent with her busy career.
She said: "My husband is incredible. He's so supportive."
Beyonce previously revealed she can't wait until her performance at the Super Bowl is over so that she can spend time with her daughter.
She explained: "I can't wait until it's all over, I'm going to enjoy my daughter. I miss her so much and I keep saying 'mommy is so busy but I'll be done at 9pm on Sunday.'"
- BANG! Showbiz