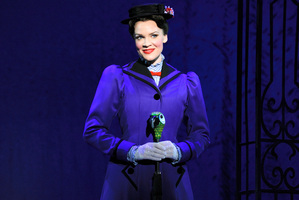 A supercalifragilistic season of Mary Poppins made it the most successful musical staged in this country for almost a decade.
The popular production at the Civic Theatre pulled in about $16.8 million in ticket sales from 160,000 audience members. It also generated a further $13.5 million for the Auckland economy from 56,000 visiting fans.
"It was very pleasing so many people from around the country, including more than 3000 from the lower South Island, travelled to see a truly world-class show," said Robbie Macrae, director of The Edge.
"The sheer numbers attending has opened the door for us to bring more internationally acclaimed productions to the city later this year and next."
He added: "Mary Poppins followed a very successful season of Jersey Boys, and shows there is clearly a real appetite for major musicals in New Zealand."
Jennah Wootten, of Auckland Tourism, Events and Economic Development, confirmed the 56,000 out-of-town theatre-goers spent an average of $240 a night while in Auckland for Mary Poppins, which closed a 91-show run on December 30.