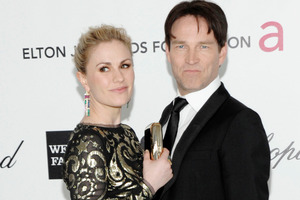 Anna Paquin will return to work after the birth of her twins by reuniting with her X-Men castmates, including Hugh Jackman, for the next movie in the superhero franchise.
The Oscar-winning actress became a mother last year, and subsequently put her movie career on hold, postponing work on a film project called Black Wings Has My Angel with Tom Hiddleston.
However, X-Men director Bryan Singer has now revealed Paquin has agreed to reprise her role as Rogue in his new blockbuster X-Men: Days of Future Past.
Ellen Page, who appeared in X-Men: The Last Stand, and Shawn Ashmore will also return to the franchise in the new film alongside regulars Jackman, Sir Patrick Stewart and Sir Ian McKellen.
Singer announced the casting news in a post on Twitter: "Very excited to welcome Anna Paquin, Ellen Page & Shawn Ashmore to X-Men: Days of Future Past - thank you (X-Men: The Last Stand director) Brett Ratner for letting them live!''
The original castmembers will be joined by X-Men: First Class stars James McAvoy and Michael Fassbender, who played younger versions of Stewart and McKellen's characters, as well as Jennifer Lawrence and Nicholas Hoult.
- AAP