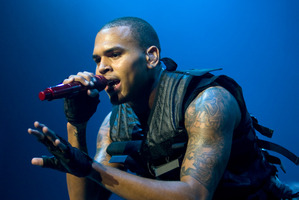 Karrueche Tran wants happiness after her rollercoaster relationship with Chris Brown.
The model split from Chris after he confessed to still having feelings for Rihanna, who he is still on probation for beating up in 2009, and while Karrueche has been spotted with Chris since his reconciliation with Rihanna, she insists she now wants to leave the relationship behind.
She told Rolling Out magazine: "Honestly, all I want is happiness. There was a lot of dysfunction and negativity. I just want to be happy. I have so much fun and I'm a better person when I'm happy. That's all I want in 2013. Everything else will fall in place."
Karrueche, 24, previously insisted she only wanted the best for the 23-year-old singer.
She said: "At the end of the day, he will always be a friend. We'll always care about each other."
Asked what she would say if she was given the chance to talk to discuss their love triangle with Rihanna and Chris, she said: "For everybody, emotionally, that would just be way too much. I'm a very mature person so if the time ever did come where we would need to sit down and talk, I'd do it. I'm a mature person. I can work it out but that would be a lot. Yeah, it would be a lot."
- BANG! Showbiz