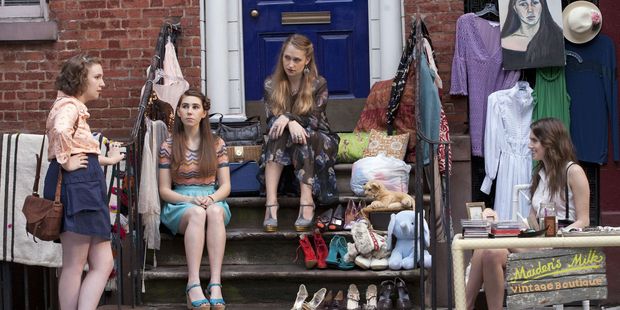 I think we can safely say that whichever one of the Kardashians "take New York" is not a particularly realistic window on life in the Big Apple. Last time I looked, the reality sisters were holed up in a white apartment that fit their entire family. Which is part of the reason Girls is such a relief to watch.
Now in its second season, it alleviates some of my envy of not living in the fabled city, too. Hannah and her mates live in underwhelming studio apartments and, despite believing they are worthy of careers of great magnitude, struggle not to self-destruct.
Last season we discovered Hannah and her mates Marnie, Shoshanna and Jessa, the central foursome on the Judd Apatow-executive-produced-show, weren't even all that likeable - a realness that somehow made them loveable. Golden Globe-winning writer and star Lena Dunham's character Hannah was embarrassing (and funny) as insufferable Adam's cling-on girlfriend. Now, post-bus accident, he's dependent and apparently in love with her.
Hannah, meanwhile, is busy spooning her gay flatmate and shagging a Republican (played by black comedian Donald Glover - possibly Dunham's answer to critics who last season complained about the lack of racial diversity on the show). Girls (Thursday, 8.30pm, SoHo) is still almost as talky as Gilmore Girls (not to be confused with Gossip Girl, also set in New York), and would be a disaster if it didn't get the dialogue right. But Dunham has a knack for nailing social awkwardness, such as this line from Shoshanna to ex-lover Ray: "If you don't want to date me that's fine because I don't want to date you either, because I only want to date people who want to date me because that is called self-respect."
There's more sex in the city on TV2's slick new show 666 Park Avenue (Fridays, 8.30pm, TV2) only it's the PG version set in the affluent Upper East Side. Unlike Girls, where the sex is too raw to be considered titillating, Park Avenue's cast look like they stumbled out of a fashion mag. Thankfully it doesn't take itself too seriously, which is just as well because the premise is a little hokey. Like Girls, the central characters Jane and Henry - played by Aussie actress Rachael Taylor and Brothers and Sisters' alum Dave Annable - can't afford much more than an apartment in Queens, so they apply for a management position at an upmarket apartment complex called the Drake.
Naturally they win over the evil proprietor Gavin Doran (Terry O'Quinn from Lost), whose wife is the equally threatening Olivia (Vanessa Williams), and who may have something to do with the building's demonic ways. There's another hot young couple living in the building - a nerdy writer and his modelesque photographer wife - who, despite having lived there for a while are only just starting to notice odd things in the building, too. Like a hot blonde chick who strips to her undies by the window. And a psychotic lift door.
Supernatural television series are risky but they can be done well, as we've seen with the likes of True Blood. But it's hard to do horror in prime time, on a small screen. This is not particularly scary, although the opening sequence involving a violinist who cuts himself on his strings was just creepy enough to up the intrigue.
That doesn't mean it's no fun. Whether or not you like the show will ultimately depend on your taste for things that go bump in the night or, in this case, hands that pull people through the walls and ghoulish white faces that appear in the dark.
- TimeOut