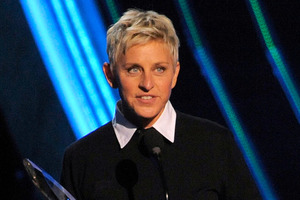 Hundreds of Ellen Degeneres fans flocked to the Sydney Opera House for the chance to fly to Los Angeles and appear on the celebrity's popular US talk show.
Organisers said about 250 people had made their way to Circular Quay by 8am on Tuesday, clutching packed bags and their passports in response to a bombshell announcement by the show's executive producer Andy Lassner.
Lassner announced on Twitter on Monday that at least one lucky Australian would fly to the US with the show's team, which is currently Down Under scouting locations for when the show and its studio audience come in March.
The winner (or winners) will be plucked from the crowd during a live cross with Ellen DeGeneres at her Californian studios at 11am, organisers said.
They will then be whisked to the airport for a 3pm flight to LA.
Christian Burke, 21, arrived at the Opera House at 5pm on Monday.
He said he resigned from his job two weeks ago in preparation for Ellen's visit to Australia and to concentrate fulltime on his Facebook page, An Aussie Backyard Barbie for Ellen.
"I love Ellen. I just wanted to be here and have the chance to meet Ellen, and thank her," he told AAP on Tuesday.
"I think my chances of going to LA are slim to none, but I just wanted to be a part of it.
"I also forgot my underwear."
Many other fans arrived at the Opera House in costumes or draped in the Australian flag.
Lizzie, Kay, Justine, Ash and Mere, from Peakhurst, painted themselves blue - in honour of the show's blue theme.
"We've been here since 6.30am," Justine said.
"The atmosphere has been great, it just shows how dedicated Ellen fans are."
Other fans held up handmade signs, while one sleeping baby had a T-shirt that read "pick my mummy Ellen please".
- AAP