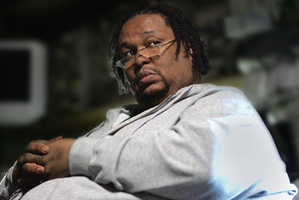 The Wire star Robert F Chew has died at the age of 52, it has been reported.
Chew, a supporting actor in all five seasons of the acclaimed HBO show about the police battle against drugs in Baltimore, died of heart failure while sleeping at home, the Baltimore Sun reported.
On The Wire he played Proposition Joe, a slow but thoughtful intermediary who often helped negotiate soured relationships and shared territories between sparring drug kingpins.
The Wire creator David Simon told the Baltimore Sun that Chew was an "exceptional actor".
"Robert's depiction of Proposition Joe was so fixed and complete - from the very earliest scenes - that the writers took for granted that anything we sent him would be finely executed."
His sister Maureen Brown said strangers would approach Chew on the street in Baltimore and tell him what a great job he did in The Wire.
He also appeared in TV shows The Corner and Homicide: Life on the Street and the 2004 TV movie Something the Lord Made.
Chew grew up in Baltimore and studied music at Morgan State University for two years.
His sister said he worked as music director for the Arena Players community theatre.
Chew's funeral will be held next week.
- nzherald.co.nz with AP