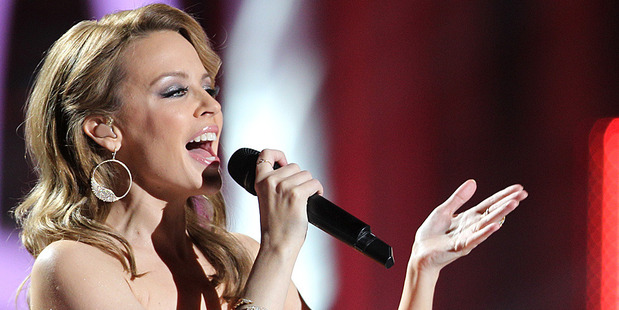 Is pop songbird Kylie Minogue really planning to quit her music career?
Don't bet on it.
"Kylie Minogue quits singing" boomed Britain's Sunday Mirror over the weekend, accompanied by a report that the Aussie singer, 44, who spent 2012 celebrating 25-years as a performer, has apparently "called a halt to her music career" to return to acting after splitting from her long-term manager, Terry Blamey.
Minogue recently ended her professional relationship with Blamey, the man credited with launching her singing and acting career when she was 19, the tabloid reports.
The website claims there were "tensions" between Blamey and Minogue's dad, Ron, over the direction that her career should take, which resulted in the parting of ways.
A 'source' close to the singer told the Mirror: "Kylie's decision to stop recording for the time being and part company with Terry has come as a massive shock.
"Ever since she broke into the charts in the 80s Terry has been the man behind the scenes. But now Kylie is saying she wants to pull back from the pressures that come with a music career.
"She says she's determined to devote more time both to herself and to her career as an actress."
The source also suggested that Kylie "may be thinking she's achieved most of what she wants as a pop star".
News of the split comes just weeks after Minogue presented Blamey with a lifetime achievement prize at the recent Artist and Manager Awards in London.
"We started off in 1987 when I had what resembled a poodle perm. Who didn't? And as you might not know Terry sported a very fetching mullet. I didn't drink coffee, now I don't turn up for work without my coffee and Terry didn't drink alcohol - it was that long ago. He would order a cappuccino and I would scoop the foam off the top," she said.
"Twenty-five years later you can only imagine how much we've been through together: The highs, lows and plateaus, the good, the bad and the ugly. But throughout it all Terry's commitment, support and guidance has remained constant.
"Thank you so much for everything. For helping a 19-year-old girl take on the world and become a woman and an artist. Here's to the future."
Blamey confirmed the split to the MailOnline, but denied there was any tension between the two.
"As we reach this fork in the road after a wonderful 25 years working together, we do so amicably, wishing each other nothing but the very best for each other's continued success," he said.
He also dismissed suggestion that Minogue is retiring from music, but did mention that the singer is keen to expand her acting career.
"Kylie has decided to pull back slightly from the pressures of her career and devote more time to herself and her acting career," Blamey reportedly said.
"This is not to say she will be retiring from music, just taking a bit of a break."
'KYLIE WAS NEVER QUITTING MUSIC'
Kylie also took to Twitter on Sunday, and contradicted the Mirror's claim that she is set to hang up her microphone.
She wrote: "#lovers #notquitting."
Her publicist also issued a brief statement to smh.com.au, saying: "Kylie was never quitting music and she tweeted that overnight."
Minogue returned to her acting roots in 2012. She had a small role in the French fantasy drama Holy Motors.
"I'd definitely love to do more acting. My heart cries out for it; it's such a deep longing," Minogue told The Guardian last year.
"For years I've been waiting to get back into it and it just hasn't happened. Or, it has happened and it was so disastrous that I thought, 'Oh, it's just not for me'."
The singer continued: "I've got a lot of work to do before people stop thinking, 'Oh, what's Kylie Minogue doing in a film?' But this has made me feel it's possible to do something beautiful and challenging, and to be believable as someone else."
Minogue recently revealed that she has already started working on her next album.
"I have started on new music already. It should be ready for 2013," she told Metro back in November.
"Obviously this year [2012] has had me focused on other things but when I had a bit of time - actually in January, that long ago - I took my first steps into the studio," she also dished to Yahoo! omg!, revealing that her next album will be much more personal.
"But next year [2013] will be the time to really get stuck in. I love going in with people I know and that I've worked with before. We understand each other.
"We get in the studio and just take off. I've worked with a couple of new people where we're just starting to get to know each other. I don't know studio-wise where next year will take me.
"I imagine it will be as always a mixture of songs I write and songs that come in that are killer tracks that I want."
She told The Huffington Post: "I want my next album to be... emoto-pop. Has anyone ever called anything emoto-pop before?
"Emotional pop! I want to be dance floor. I want to do what I do, which is pop dance, but I think if it has that emotional thread through it then that will ring more true to me at this stage in my life. I'm not 18."
FAST GOSSIP
And finally...
* Jodie Foster's absolutely fabulous Golden Globes speech: "I did my coming out about a thousand years ago". And no, she's not retiring.
* Kate Middleton and Prince William's baby due in July, palace says.
* Anne Hathaway NOT pregnant.
* Newly-single Britney Spears in talks for Las Vegas show deal.
* Splitsville: Steven Tyler and fiancée Erin Brady call it quits.
* Tom Cruise thinks he's on planet to fight aliens, according to book.
* No wedding yet for Kim Kardashian and Kanye West, but word is they are making plans for a commitment ceremony.
* Megan Fox on quitting Twitter: "I don't have the time to waste".
* Heather Graham's apartment caught fire from lit candles in bathroom.
* Diamond encrusted Barbie? Why not. Jay-Z and Beyonce's lavish birthday party for baby Blue Ivy.
* Has Taylor Swift already penned her Harry Styles breakup songs?
* Listen: Justin Timberlake collaborates with Jay-Z on new single, Suit & Tie...
Follow Myrddin Gwynedd on Twitter.
- Rumour Has It