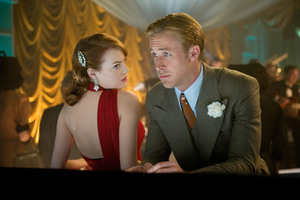 Ryan Gosling claims Emma Stone owes him money.
The Gangster Squad star - who is dating Eva Mendes - laughed off questions about why he was drawn to work with the 24-year-old actress for the second time following their appearance in the movie Crazy, Stupid, Love, saying he only signed up to work with her again because he wants her to pay him back some cash he lent her.
He joked to E! News at the Los Angeles premiere of their new drama on Monday night: "The truth is, Emma Stone owes me money. If I show up here or I have to do another movie with her to get it, I will."
The 32-year-old star recently claimed he doesn't think he is particularly attractive, despite regularly being voted as one of the sexiest men alive.
He said he is bemused by his sex symbol status and doesn't consider himself a traditional leading man.
He said: "I don't think of myself as particularly good looking and not at all a typical leading man actor.
I have a greater affinity for characters who aren't mainstream leading man kinds of roles, although I enjoy playing basically any character as long as the film has something interesting to say about life.
"I hate feeling that I'm just doing a job for a pay cheque. The whole notion of being a movie star is part of the myth-making process that goes on in the film business. You create this great illusion on screen and then the illusion is taken to a different level when actors become mythologised."
- Bang! Showbiz