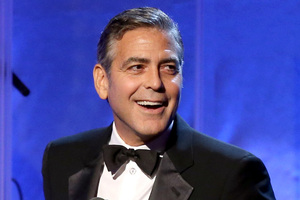 George Clooney is among the stars picked to present at this year's Golden Globe Awards.
The actor will take on the role alongside Meryl Streep and Jennifer Garner at the Beverly Hilton Hotel on Monday afternoon.
The three A-listers will also be joined by Will & Grace star Debra Messing, according to a tweet from the Today show, whose network NBC will air the awards ceremony on January 14.
"Excited to announce some of the #GoldenGlobe presenters: George Clooney, Meryl Streep, Jennifer Garner, & Debra Messing. Tune in Sunday! (sic)" the post reads.
A further host of presenters were announced on the Golden Globes website, including Amanda Seyfried, Jennifer Lopez, Kristen Wiig, Will Ferrell, Jason Statham and Kerry Washington.
The event will be co-hosted by comediennes Tina Fey and Amy Poehler.
Steven Spielberg's Lincoln is the film to watch this year, receiving the most nominations, with seven, followed closely by Ben Affleck's Argo and Quentin Tarantino's Django Unchained, with five each.
Zero Dark Thirty, Les Miserables and Silver Linings Playbook all come in third place, with four nominations each.
The Golden Globes will kick off the awards season and are followed by the Screen Actors Guild Awards on January 28 and the Oscars on February 25.
- AAP