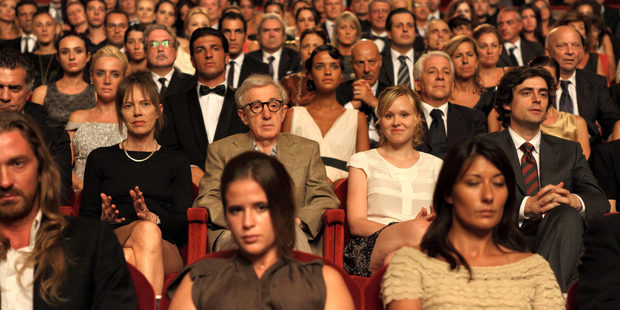 Woody Allen's new film may seem cobbled together from bits of paper from his "drawerful of ideas" (see interview previous page), but that's no bad thing. In Rome, after recent cinematic sojourns in London, Barcelona and Paris, he's in playful mood: his most serious point is that the media obsession with celebrity is both shallow and fickle, scarcely qualifying as ground-breaking critique.
The film's four vignettes are almost completely independent of each other and only marginally in touch with the real world: they unfold in parallel but one of them plainly occupies an afternoon while another takes weeks. Meanwhile Baldwin is simultaneously narrator, character and chorus-like intruder in others' stories whose visibility varies according to the needs of the screenplay.
It's one of the film's many charms that it moves so seamlessly between fantasy and reality, and that much of what belongs in one realm seems to infiltrate the other. Allen himself plays Jerry, an retired opera impresario whose career has been a critical disaster - a running gag has his wife Phyllis (Davis) saying he was "before his time".
They arrive in Rome to meet the local man who has swept their holidaying daughter off her feet, and Jerry becomes fascinated by the beau's father, who has a magnificent voice (the role is taken by the noted tenor Fabio Armiliato).
The complications that attend on Jerry's plans for the new star and the way in which he solves them should not be divulged here, but Allen interleaves this story with that of two newlyweds, just arrived from the sticks, whose fidelity will be sorely tested; a famous architect (Baldwin) who meets an acolyte (Eisenberg), who in turn becomes enmeshed with a pretentious and self-absorbed actress (Page, in the film's best turn by some margin); and a lowly clerk (Benigni) who becomes suddenly and inexplicably a celebrity.
This is far from vintage Woody - some of the dialogue is clunky as hell and there's a contrived feel to some storylines - but the essential good-heartedness of the undertaking puts one in mind of a Shakespearean comedy. A perfect diversion for a summer afternoon.
Stars: 3.5/5
Cast: Woody Allen, Roberto Benigni, Penelope Cruz, Alec Baldwin, Judy Davis, Ellen Page, Jesse Eisenberg, Alec Baldwin
Director: Woody Allen
Running time: 112 mins. In English and Italian with English subtitles
Rating: M (offensive language and sexual references)
Verdict: Woody light
- Timeout