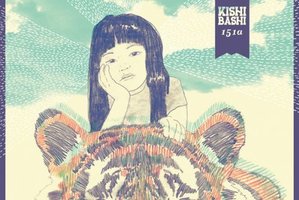 Although this album has floated around for a while, it seems to have gone past the very people who might like it. Imagine where the axis of Alt-J and Of Montreal crosses with less frantic Mika and the harmonies of the Beach Boys and you're getting close - then factor in Kishi Bashi (Seattle-born Kaoru Ishibashi), a singer-songwriter and violinist.
It's that prominent, soaring, hyperactive and searing fiddle that adds urgency. But on the airy ballad Manchester, the McCartney-like pop of Bright Whites with odd chanting backing vocals; It Began with a Burst and Chester's Burst Over the Hamptons which channel glam-lite Mika, and the airy Wonder Woman Wonder Me (cue Mike Love and Brian Wilson) there's a life-affirming, often joyous heart at work.
It is however a game of two halves and the second is more melancholy with songs like I Am the Antichrist to You (spare, beautifully sung) and the dark folk of Beat the Bright Out of Me. (Then there are three bonus tracks, among them the buoyant Evalyn, Summer Has Arrived).
Funded by Kickstart contributions, this album rewards the fans' faith and for a debut is a fine finished product, but also fizzy with promise.
Stars: 4/5
Verdict: What goes up must come down, but both directions are rewarding
Click here to buy a copy of 151a.
- TimeOut / elsewhere.co.nz