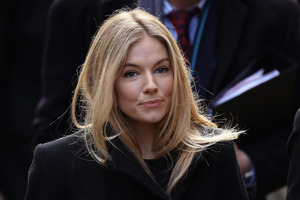 Sienna Miller. Photo / Getty
Sienna Miller says childbirth was "the greatest thing in the world".
The actress, 30, welcomed daughter Marlowe into the world four months ago and the Factory Girl star would relive that day "a million times again" if she could.
"It's the best, the greatest thing in the world ... I would do that day a million times again. I would do that day, every day. I loved it," she said.
Despite their occasionally busy careers, Sienna and her fiancé, Tom Sturridge, have not yet hired a nanny because they want to learn as much as they can about parenting first.
Speaking to the new issue of Harper's Bazaar magazine, she said: "It's just been the three of us, which was amazing, and exhausting.
"We are going to get a nanny, but it felt important to first learn for myself who I was as a parent."
The Girl star has a newfound-respect for her body since giving birth.
She said: "My body's a completely different thing to me, it's not mine - all the attachment to its flaws or any aesthetic attachment is gone.
"You understand what breasts are for; and I have such enormous respect for my body because of what it can do."
- BANG! Showbiz