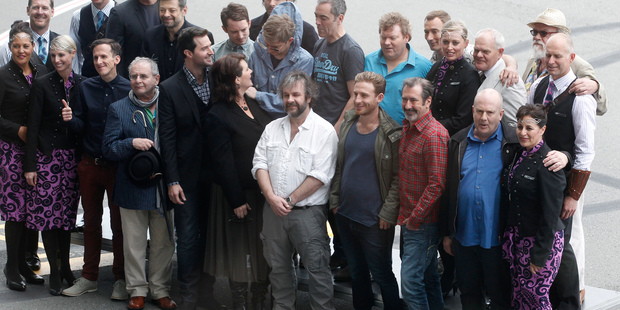 Sir Peter Jackson and The Hobbit cast pose with Air NZ staff during their photo call at Wellington International Airport today. Photo / Mark Mitchell
Hobbits, dwarves and wizards have transformed Wellington into Middle-earth today, touching down in the country's capital ahead of tomorrow night's The Hobbit world premiere.
Five cast members and J.R.R. Tolkien's great-grandson Royd are some of the final arrivals, landing in Wellington at 11.20am on the Air New Zealand plane decorated with the film's characters.
Dozens of media were this morning awaiting 18 members of cast and crew, including Sir Peter Jackson, for an official photo on the tarmac.
Inside the airport, fans lined the windows to watch the stars arrive.
Those on board the Air NZ flight from Auckland this morning talked to media during the short trip, sharing their thoughts on make-up, the premiere after-party and their excitement at the hype for the film.
On the media flight were, Kiwi actor John Callen, who plays Oin the dwarf; former Shortland Street star Dean O'Gorman, who plays the dwarf Fili; Irishman Aidan Turner, who plays Kili the dwarf; Scottish actor Sylvester McCoy, who plays Radagast the wizard and is best-known as the seventh actor to take on the role of Doctor Who; Graham McTavish, who plays Dwalin the dwarf and who made his mark in Hollywood in a role opposite Sylvester Stallone in Rambo a week after moving to Los Angeles; Royd Tolkien, the great-grandson of Lord of the Rings author J.R.R.
Tolkien
Cast and crew walked a black carpet led by Sir Peter, who filmed most of the event on his iPhone.
They hugged and kissed the cast members who had just arrived and took their own pictures of the media pack, the waving crowds and the plane with their faces plastered on the fuselage.
They were led back down the black carpet to a platform for official photos to be taken before being taken away from the airport.
Arriving back in New Zealand felts like landing in Middle-earth for Royd Tolkien.
As a 9-year-old reading his great-grandfather's famous novels, Royd never knew a country "so perfect'' to resemble the beautiful landscapes depicted by in The Hobbit and Lord of the Rings.
"I think [New Zealand] is such a perfect match for it [the books]. The idea of having something so perfect as a country ... for me, the landscape plays an important part in [the films],'' Royd said on the special Air New Zealand flight.
"It kind of rekindles that magic I had back when I was nine when I read [the books]. It's a perfect match.''
To the best of his knowledge, Royd says his great-grandfather J.R.R. Tolkien never visited New Zealand.
Royd is here for a few brief days filled mostly with press and the world premiere in Wellington tomorrow.
He says he is "uber excited'' about the new film - and the subsequent post-celebration.
''[In] the Lord of the Rings there was obviously just the one dwarf in that, so for me the hobbits were the ones that partied the hardest back then [at the premieres],'' Royd said.
"But there's a few more dwarves now, so I think they're going to let their hair down, let their beards down a bit, go a bit nuts.''
Kiwi actor John Callen, who plays the dwarf Oin, and Graham McTavish, who plays the dwarf Dwalin, agreed.
"John particularly is out of control,'' McTavis said.
"Eight to twelve wines, at least just to start,'' Callen added. "And if any of the food can be lifted there's a very good chance it can also be passed around in a vertical kind of way.''
McTavish said the Hobbit-hype in New Zealand was "wonderful''.
"It's been very touching,'' he said.
"I've never seen anything like it and I don't think I ever will again.
"I want to be mobbed by young women. I might as well put it out there now.''
Dean O'Gorman, another home-grown dwarf, playing Fili in the film, had never been interviewed in a plane until today, let alone inside one with his face on the outside.
He said he hoped for a big party at the Wellington world premiere.
"I really don't know what to expect. I know that there's a lot of hype. [But] in terms of the amount of people I've got no point of reference,'' he said.
"It's going to be frantic and it's going to be crazy,'' fellow dwarf Aidan Turner said.
"It's going to be exciting.''
Auckland-based O'Gorman said he was used to watching world premieres from his lounge room instead of from the red carpet.
The event would be a big celebration, he said.
"There're more dwarves than hobbits, so dwarves are a bit raucous by nature so there will be [plenty of partying],'' O'Gorman said.
Go to nzherald.co.nz tomorrow for full coverage of The Hobbit red carpet and premiere. Live updates will begin at 12pm and a live stream of all the action will start at 3:50pm.