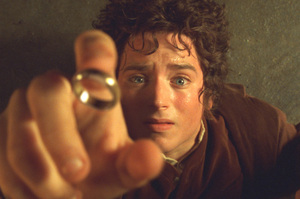 JRR Tolkien's family are in a legal battle with the producers of Lord of the Rings. Photo / Supplied
The estate of JRR Tolkien is suing the producers of The Hobbit: An Unexpected Journey for causing "irreparable harm" to the author's legacy, just a week out from the film's official premiere in Wellington.
A $98 million lawsuit filed in the Los Angeles District Court by the Tolkien estate and its book publisher HarperCollins accuses Warner Bros, New Line Cinema and Saul Zaentz Co of copyright infringement and breach of contract.
It claims the studios did "irreparable harm" to Tolkien's legacy by authorising inappropriate merchandise based to his works, including Lord of the Rings-themed online gambling games, The Hollywood Reporter reported.
The lawsuit hinges on an alleged breach of a decades-old agreement allowing the production of "tangible" Tolkien merchandise, the report said.
Tolkien's estate believes that includes "figurines, tableware, stationery items, clothing and the like" but does not cover "highly offensive" online slot machines, other gambling merchandise, or digital games.
It is also sharply critical of a Warner plan to authorise traditional slot machines featuring Lord of the Rings characters.
Warner Bros, New Line Cinema and Saul Zaentz Co are accused of "patently exceeding" their rights.
The estate is claiming $98 million in damages and asking for an injunction on the alleged infringing products.
Its lawsuit comes just a week out from the premiere of The Hobbit: An Unexpected Journey at Wellington's Embassy Theatre.
The movie's director Peter Jackson has had his own legal battles with the Lord of the Rings producers.
He sued New Line Cinemas over accounting issues related to the original Lord of the Rings films.
The suit was settled out of court.
Read more:
The Hobbit's official trailer released
Gandalf will miss The Hobbit premiere
Peter Jackson denies The Hobbit animal abuse claims
Matamata ready for The Hobbit tourism boom.
Neil Finn's epic Hobbit song
Hobbit-themed safety video a global hit
- Herald Online