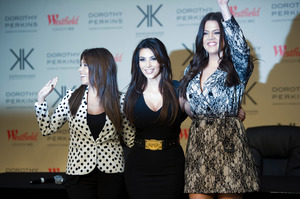 Bruce Jenner is allegedly preparing to file to divorce from Kris Jenner.
The 63-year-old Olympic gold medallist is said to have consulted a lawyer because he is fed up with Kris, 55, flirting with younger men and belittling him in public.
A source told the National Enquirer: "Bruce feels that Kris treats him like a doormat, and he's had enough.
"She constantly belittles his appearance and complains to mutual friends that he's a boring old fart. Then she has the gall to flaunt her relationships with younger guys in his face."
The couple have been married 21 years.
Bruce shares two biological children with Kris, daughters Kendall, 17, and Kylie, 15, but they both have four other children each from previous relationships, including her world famous daughters Kim, 32, Kourtney, 33, and 28-year-old Khloe Kardashian.
"He hates it when cronies at the Country Club jokingly call him Bruce Kardashian. Kris is continually perceived as the money-maker and the one who wears the pants in the family, and he's sick and tired of the humiliation."
Bruce has reportedly already met with a lawyer to discuss a legal separation which would involve dividing up the couple's estimated $155 million fortune.
An insider said: "One of Bruce's pals who's a sports entertainment lawyer has helped Bruce value the assets of the Kardashian-Jenner empire if he moves forward with a split.
He's also talked to a divorce attorney buddy about potential custody arrangements for his two girls with Kris."
- Bang! Showbiz