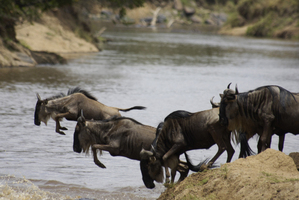 Pick of the week: Trek - Spy on the Wildebeest
Following previous spycam series that went on the trail of tigers and elephants, Trek takes undercover wildlife filming to a whole new level as cameras follow the great wildebeest migration on a 3000km round trip through Tanzania and Kenya.
Forget Dungcam and Bouldercam: this new series has an army of 20 spycams including the Tortoisecam, Hippocam and Croccam through to high-powered remote control helicopters (Stealthcam) and Dragonflycam (which houses the world's smallest HD camera) to capture the action. Then there's the almost indestructible Skullcam, placed in the many rivers and waterholes the herd frequents, which had to survive being trampled by thousands of wildebeest and zebra.
As narrator David Attenborough puts it: "Experience the drama as the wildebeest see it [and] what it's like to be on the hit-list of every African predator."
More than 1.25 million wildebeest take part in the annual migration in search of food and water. Trek starts in February on Tanzania's Serengeti Plain which is the location of "the world's largest baby boom" with about 500,000 calves born in three weeks. The two-part documentary is told from the perspective of a calf born at this time and follows the young wildebeest's perilous, long-distance journey alongside its mum.
It really is a hard life, with just 50 per cent of the calves surviving their first six months and the rest succumbing to disease and predators.
It's lucky these young mammals are up and walking - and in some cases bounding around - within four minutes of being born because, in the words of Attenborough, "Africa's top predators are assembling", including hyenas, lions, leopards, jackals, cheetahs and crocodiles.
Trek was three years in the making and draws from around 500 hours of recorded material - from beautiful aerial shots of the wildebeest fanning out across the plains looking like a mass army from Lord of the Rings, to confrontational close-ups as the spycams get in the face of a lion as it holds a wildebeest's neck. The action is tense, from following stalking lions through the long grass, to the baboons at the watering hole treating the capture of a wildebeest by a crocodile as a spectator sport.
When: Tuesday, 8.30pm
Where: TV One
What: Undercover on the world's greatest land migration
Final pick: Nothing Trivial
It's been a big second year for the "Sexy Sticks", as rival Cory likes to call them. Brian and Emma are having a baby and settling down in the 'burbs, despite Nige's attempts to pull them apart. Michelle has bought another business but can't seem to control her anger issues - and now she's being charged with assault. Mac has made a go of his own business and finally seems to be at peace with Jo. And Catherine has revealed that she's not in love with Jules any more - which means she and Mac can finally admit they're made for each other. But how long can Mac and Catherine keep their relationship secret? Will Emma find out what really happened on the boys' fishing weekend? And can they keep their pub quiz habit going?
When: Sunday, 8.30pm
Where: TV One
What: Will team Sex On A Stick be no more?
Crime pick: Prime Suspect
Maria Bello has big shoes to fill in this new American version of Prime Suspect, the British procedural which starred Helen Mirren as Detective Chief Inspector Jane Tennison. Set in New York, this new drama has Bello starring as Detective Jane Timoney, a no-nonsense officer who is promoted to a new bureau in Manhattan only to find herself facing sexism in a male-dominated homicide squad.
When she takes over a rape and murder taskforce from a recently deceased colleague, her position in the bureau becomes even more fragile. Fortunately her talents help to offset these challenges, even if her feisty demeanour makes her relationships with her boyfriend and ex-cop father perpetually rocky.
When: Wednesday, 10.55pm
Where: TV One
What: American take on Mirren's top cop
Crime pick: Line of Duty
It had strong reviews in the UK and has been renewed for a second season, so BBC2's latest drama might be just the thing for fans of The Wire who've been craving some good police drama. Set in the police anti-corruption unit AC-12, Line of Duty is all about the cat-and-mouse games in the modern world of policing, as detectives spin dodgy stories and become the targets of other police. The unit is run by zealous Superintendent Ted Hastings (Adrian Dunbar) and his target is charismatic Detective Chief Inspector Tony Gates (Lennie James), whose unit returns the best crime figures.
But everyone has something to hide, and each time Hastings' team comes close to catching Gates out, he turns the tables.
When: Tuesday, 8.30pm
Where: Soho
What: Detectives investigating detectives
Drama pick: Secret Diary of a Call Girl
In the fourth and final series of this British show starring Billie Piper as high-class escort Belle, it looks like she's becoming more like London's answer to Carrie Bradshaw with every passing day. She resides in the most desirable post code, shops to her heart's content, and frequents the city's best restaurants and new bars.
She's finally decided to take the plunge with best friend Ben (who's been in love with her from the start), but it's a precarious situation - if she messes it up, she'll lose her only true friend. It doesn't help that her long-time madame, Stephanie, is in jail and is leaning on her not only to run the business, but to look after her teenage daughter Poppy - without revealing what mum does for a living.
When: Wednesday, 9.35pm
Where: Prime
What: Belle tries to choose between love and work
- TimeOut