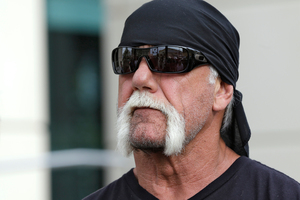 Hulk Hogan has settled his lawsuit against Bubba the Love Sponge.
The wrestler has dropped charges against his former best friend over his leaked sex tape, but is still suing Bubba's ex-wife Heather Clem - who stars in the saucy video alongside Hulk - and website host Gawker Media for allegedly violating his privacy.
Bubba - real name Todd Alan Clem - released an apology letter today in which he revoked his previous statement that Hulk leaked the tape for publicity and was aware he was being filmed, TMZ reports.
The radio DJ announced: "It is my belief that Hulk is not involved, and has not ever been involved, in trying to release the video, or exploit it, or otherwise gain from the video's release in any way."
He added he is now "committed to helping Hulk and his attorneys find whoever is responsible for the release of the tape".
Meanwhile, the TNA IMPACT Wrestling star is pressing on with his $100 million lawsuit, claiming he was filmed without consent.
Hogan recently lost his bid for a temporary restraining order against Gawker and the site is showing a one minute and 40 second snippet of his intimate encounter until the scheduled legal hearing on November 8.
Before today's public apology, Bubba had slammed "self-centred" Hulk and his motives live during his radio show.
He said: "I'm gonna be honest with you, I have not seen the tape ... including me supposedly bragging and being a horse's ass.
"At the end of the day, I can't even comment on the validity ... [Hulk] could have had something to do with the leak of it."
- Bang! Showbiz