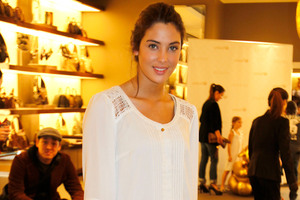 Jaime Ridge is about to head back into the spotlight with a star from the controversial TV series The GC, but this time they'll be handing out awards instead of trading punches.
Ridge, 19, beat The GC's Rosanna Arkle in a celebrity boxing bout in July.
On Thursday, she'll team up with mullet-haired Tame Noema at the Vodafone NZ Music Awards in Auckland to dish out gongs in the Best Group and Breakthrough Artist categories.
"When I was asked to co-present two awards with Tame, I thought it was a good opportunity to show there's no bad blood between me and The GC crew," Ridge told the Herald on Sunday. "This time our pairing will be more friendly - and I get to wear heels."
"I'm looking forward to seeing some of my favourite New Zealand artists and international celebs."
American rocker Ben Harper has also been signed up to present two awards at the star-studded bash at the Vector Arena.
Harper will give out gongs for Best Roots Album and Best Urban/Hip Hop Album.
"It is fantastic our top music awards are attracting interest from established international artists like Ben," said Chris Caddick, boss of organisers the Recording Industry Association, but it was all about local talent.
The Vodafone Music Awards, hosted by Shannon Ryan and Ben Boyce, will be broadcast on Channel Four from 8.30pm, Thursday.
See Spy, View magazine, for more award revelations.