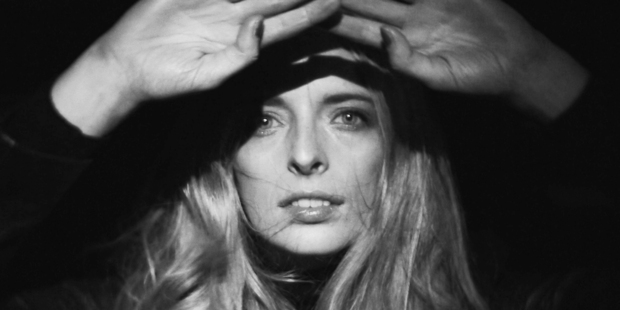 Auckland act Watercolours, fronted by Chelsea-Jade Metcalf, has taken out the Critics Choice prize for 2012.
The award, given out in the run up to the New Zealand Music Awards on November 2, was held at the Kings Arms in Newton with a packed crowd enjoying sets by each of the three bands nominated for the prize: Watercolours, Loui the Zu and Beach Pigs.
In what was apparently the closest vote yet, the critics decided on Watercolours, and Metcalf was clearly overwhelmed and delighted.
"This is really nice," she stammered. "Thanks to my amazing band - I'll buy you all pizza and Denny's, and some stuff from the Rockshop."
"And thanks to Loui the Zu and Beach Pigs. Everyone was great, we should all collaborate," she laughed.
The three acts had been selected by an industry panel of 13 critics to perform a half-hour set each in front of a packed crowd at the Kings Arms, competing to win the third Critics Choice Award, which includes a NZ On Air grant, cash to spend at the Rockshop, and mentoring from music industry specialist.
Noise-pop four piece Beach Pigs were in the always-tricky position of going first, but impressed with their tight, fast-paced and energetic songs. They soon had a dedicated bunch of fans yelling "shirts off" and their front man kindly obliged.
They managed to churn through eight songs in half an hour, and had some admirable crowd surfing being attempted as well as some artistic head-thrashing to their riffy, poppy tracks that occasionally reminded of The 3Ds.
Up second was Watercolours, with Metcalf leading her seven-piece supergroup (including members of Artisan Guns, drummer Alistair Deverick , producer Dave Parker, and three lovely, almost angelic backing vocalists: Hollie Fullbrook, Mimsy Cable, and Liz Stokes) through a beautiful seven-song set.
Dressed in a white suite, she gave an arresting performance, with a little 80s inspiration, and the occasional addition of muted trumpet, weaving through complex layers of keys and percussion, and ethereal harmonies.
Finishing up the night was charming 18 year old rising rapper Loui the Zu. With his enthusiastic three-piece band, he proved he has plenty of potential, ranging between slower R&B styled numbers ("Feel free to make out with your wife on this one," he cheekily suggested) to a much more aggressive, hard-hitting final number that came across like a young Jay-Z.
Previous finalists in the Critics Choice Award have been Street Chant, Home Brew, The Naked and Famous, Popstrangers, The Unfaithful Ways, and Kimbra.