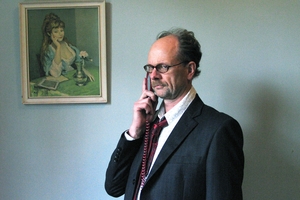 An actor plays an actor telling us a story in the third person about himself in this slight but amusing hour that zig-zags between "fact" and fiction until the audience is clearer than the characters about which is which.
Adding another layer to the reality labyrinth, the actor, Stephen Papps, also wrote this "solo show with two people".
He plays the self-deluding Jack, whose relationship with the truth is as loose as his relationship with his love, Rose (the couple share their names with Titanic's ill-fated lovers).
Lanky and balding, Jack waxes humorously poetic at first: "Like a swimming pool, their love deepens the further in they wade until they are in over their heads."
Rose has red hair like a "small to medium bushfire".
It would have been even more fun if the wagon-load of locomotive metaphors (they were "happy coupling on the sleeper of love") had been tied to the plot.
The style is not entirely matched by substance.
The characters, and Jack's life story of the trials and tribulations of an actor, are generic and rather thin. We're told Jack and Rose fell in love - why? We're told he takes drugs - what drugs? Still, Papps makes even the mildly misogynistic and egoistic Jack affable, and the ending works very well.
Jack turns out to have met a woman lying prone onstage (an assured Lizzie Tollemache) at a nightclub.
Things get interesting when she starts acting as Rose in Jack's story.
Who is Jack really seeing when he looks at her? Why can't he remember what happened the night before?
The show's only props are a chair and a guitar that Jack strums from time to time, but no set is needed.
The Basement's small black box upstairs is oddly configured. Choose your seat carefully in order to see the wide, shallow stage.
Theatre review
What: Third Person Tense
When: Until October 27
Where: Basement Theatre, Greys Ave.