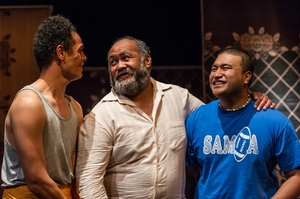 "I am the provider and the oppressed ... I am the role model and the embarrassment."
This is how fa'afafine Vili/Vilanda (Taofia Pelesasa) opens this moving examination of family, grief and the difficulties of coming-of-age.
But she's not the only one who has it rough: Vili's father (Dave Fane) mourns his wife, and bitterly regrets persuading her to move from Samoa to Auckland; Vili's brother Sione (Troy Tu'ua) gets bossed around; Vili's fa'afafine friends Shaniqua (Amanaki Prescott) and Dejavu (Shimpal Lelisi) no longer see their families.
The success of this play is its acknowledgment, sympathetically drawn out by Alison Quigan's direction, that everybody onstage hurts. In the aftermath of a crisis, all the family members feel undervalued without realising that those from whom they're seeking recognition are also feeling unrecognised.
The casual violence shocks, even as it's expected.
This all develops rather slowly, and later plot points lose an element of surprise because of Shaniqua and Dejavu's seen-it-all-before prophetic and unheeded warnings to Vili. However, as one would hope of a play written by two Naked Samoans (Fane and Oscar Kightley) with Nathaniel Lees, A Frigate Bird Sings has many moments of lightness and humour, and gently finds absurdity in situations of heavy drama.
Shaniqua is given the best quips and uses the ultimate threat during one scrap: "Don't make me use my man voice." While a costume change would have been nice, her lip-synch numbers are glamorous and polished - the flick of a Prescott eyelash or fingernail as effective as any rigorous routine. The identity politics here, while not fleshed out entirely, are presented as complex; the audience is implicated in looking upon fa'afafine as "freaks".
The 1998 play has been updated with Facebook references, but John Parker's set, which matches a fawn La-Z-boy with plastic flowered mats, looks both kitsch and timeless. A well-acted bargain at $15-$25.
What: A Frigate Bird Sings
Where: Mangere Arts Centre
When: Until Saturday Taofia Pelesasa (Vili, left), Dave Fane (Vili's father) and Troy Tu'ua (Sione).