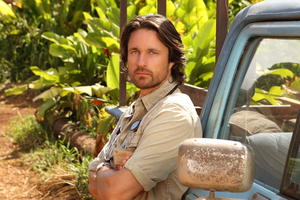 Kiwi heartthrob Martin Henderson has landed a lead TV role in Hollywood, all going well.
The Auckland-born actor, who turns 38 tomorrow, will play a former astronaut in the pilot episode of a show about murder in suburbia.
American media described The Secret Lives Of Husbands And Wives as part thriller, part soap opera.
The proposed series' plot pivots on intrigue within a close-knit group of three suburban families.
The Hollywood Reporter said Henderson would play Kyle Dunn, a former astronaut "who returns from a long absence to find something is different about the life he left behind".
Co-stars include brunette actress Perrey Reeves, who played Ari Gold's wife in the cult TV series Entourage.
The show's producers include Jerry Bruckheimer, who produced Beverly Hills Cop and the CSI crime show franchise.
Henderson got his first break as a 17-year-old, playing troubled teenager Stuart Neilson in Shortland Street. He has since starred in Hollywood blockbusters including 2002 horror flick The Ring.
He has been romantically linked this year to actress Demi Moore.
Henderson has also signed on as an ambassador, or unofficial promoter, for short film festival Tropfest, which comes to New Plymouth in January.