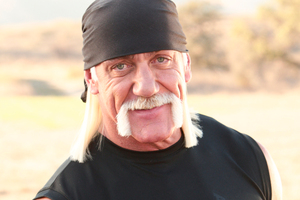 The woman in Hulk Hogan's sex tape is apparently embarrassed about sleeping with the wrestling legend.
A nearly two-minute clip of Hulk with a busty brunette - alleged to be Heather Clem, the ex-wife of his best friend, radio DJ Bubba the Love Sponge - has leaked online and friends of Heather claim she is distraught their romp has been made public.
A source told RadarOnline: "Heather is completely devastated the sex tape has appeared in public and doesn't want to talk about it.
"She thinks it puts her in a bad light - it's not as if Hulk's a hunk and it's a pretty embarrassing moment.
"Heather didn't want her friends and family knowing that she had sex with Hulk Hogan - he's very corny.
"It was a private moment, and wasn't meant to be shared with anyone else," said the source.
She is also said to be horrified that the video makes her look like "a piece of meat".
The insider added: "What's worse is Hulk's interruptions - stopping Heather when she's performing a sex act to check his cell phone and then admitting he felt like a pig because he ate too much right before after they finished up... the video makes her look like a peace of meat."
Hulk - who is now married to Jennifer McDaniel - has previously claimed he doesn't know who the woman in the tape is.
-BANG! Showbiz