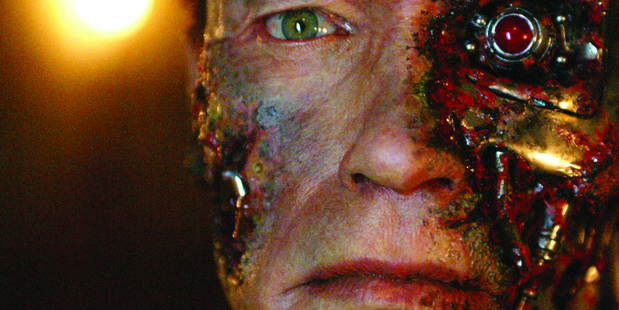 Arnold Schwarzenegger had a stand-up row with director James Cameron on the set of Terminator, disagreeing with him over what would become his iconic catchphrase, "I'll be back".
In his memoirs, the former California governor says he thought the phrase sounded too "feminine," insisting that, "I will be back" was more rugged and suited to his robot killer character.
"Our biggest disagreement was about, 'I'll be back'," Schwarzenegger said. "I was arguing for, 'I will be back'. I felt that the line would sound more machine-like and menacing without the contraction.
"It's feminine when you say the I'll," I complained, repeating it for Jim so he could hear the problem. 'I'll I'll I'll. It doesn't feel rugged to me.' He looked at me like I'd lost my mind.
"'Let's stick with I'll,' he said. But I wasn't ready to let it go, and we went back and forth. Finally Jim yelled, 'Look, just trust me okay?' I don't tell you how to act, and you don't tell me how to write.'
"And we shot it as written in the script. The truth was that, even after all these years of speaking English, I still didn't understand contractions," said the Austrian-born actor.
Schwarzenegger had already appeared in two Conan movies, but 1984's Terminator cemented his standing as a major Hollywood star, and he still uses the "I'll be back" catchprase to this day, in public appearances.
The former champion bodybuilder went on to become one of the most bankable actors in Tinsel Town, before going into politics as governor of California from 2003 until last year.
His memoir, Total Recall - named after another of his blockbuster movies - includes details of his marital infidelities, including fathering a child with his housekeeper, leading his wife Maria Shriver to file for divorce.
- AFP