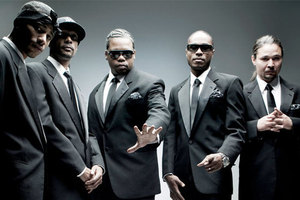 Kiwi hip-hop fans have slammed Bone Thugs n Harmony after the American rappers failed to show up for an Auckland gig.
The five-piece Cleveland group, known for their 1994 smash Thuggish Ruggish Bone, were due to perform at Auckland venue The Studio on Friday night, as rapper Krayzie Bone promised in this promotional video.
But, as Auckland Now first reported, the gig was cancelled at the last minute because the band had missed their flights from Indonesia and were "uncontactable".
In a posting on Facebook just hours before the show, venue The Studio said: "We apologise but unfortunately from our and the promoters side there is very little we can do. Please contact ticketing on Monday for a full refund.
Sorry for any and all inconvenience."
In a subsequent post, the venue blamed "misinformation and lies" for the mix-up and called the cancellation "devastating".
That wasn't good enough for fans, who took to social media to vent their frustration.
"It's fully unacceptable what has happened," complained Clarke Boswell on Facebook. "I know of various people who has spent over 300 bucks just to get to Auckland for the night, let alone take time off work." (sic)
"Ive been listening to yous since i was 9 and always had love because you were one of the few in the rap scene that stayed real," said Channelle Williams. "I only hope what im seeing about yous choosing $ over all your real fans in nz isnt true, Because out of everyone I never thought you guys would turn into sell outs!" (sic)
And Joann Daniela said: "Pretty sad how yous charged New Zealanders $80 to watch your concert last and yous don't turn up!!! WTFs up with that????? Some fans were from outta town and if your a diehard fan like my sister, she got like all these new gears, new chucks even, rushed home from work t get ready and this is wot yous do??" (sic)
The band later apologised for the no-show, promised to reschedule their New Zealand gig and blamed an Australian tour manager for "stuffing everything up".
New Zealand promoters 1 Night said new dates would be announced for early October.
- nzherald.co.nz