Returning from New York with a new album to play Laneway, Bailterspace's Alister Parker talks to Scott Kara about his underground band's long, loud life.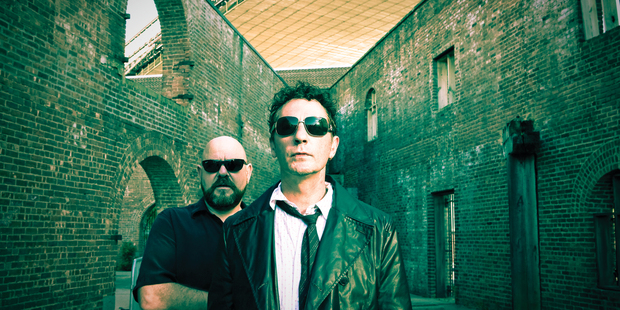 Alister Parker of Bailterspace listens to his band's music a lot. It doesn't matter if it's their past, present, or future songs. He listens to it all - and turns it up loud, which really is the only way to enjoy the melodic dissonance and oppressive intensity the Kiwi underground heroes conjure up.
"One day I'll listen to Robot World, one day I'll listen to Thermos, and one day I'll listen to Photon, which I love, and Capsul, there's a few tracks off Capsul I think are really nice," he says, reeling off a number of the band's releases.
He doesn't mention the band's debut, Tanker, a searing beauty with tracks like Your Invisible Life and Grader Spader on it, which they released after the band had morphed from the Gordons, into Nelsh Bailterspace and then plain old Bailterspace.
Lately though he's mostly been listening to the many songs Bailterspace have recorded in the past decade or so.
"I listen to a track for a few days and I just get into a real space with it. Have it blasting in my head for f****** days. I'll turn the stereo up at home to see if it's got that shake-the-walls totality. More often than not it does. I have to have my cellphone right beside me because the doorman is likely to call me any minute, but I'll give it as many seconds as I can get. Then I'll give it a headphone-listen."
The thing is, the common misconception was that Bailterspace were on hiatus for much of the 2000s, apart from a one-off performance at New York's Bowery Ballroom in 2008.
"We never really stopped doing anything. We just stopped playing in public. But we didn't stop playing or meeting," laughs Parker in his casual, sort of dreamy way on the phone from his long-time adopted home town of New York.
He and fellow bandmates Brent McLachlan and John Halvorsen moved there in the early 90s. It's clear Parker still loves the city and jokes about how he gets withdrawal symptoms if he goes away for a few days.
Though he's looking forward to coming back to New Zealand during summer, when Bailterspace play the Laneway Festival at Wynyard Quarter on January 28.
It will be a welcome return for local fans of the band because - and presuming they can still muster it - there is nothing quite like the pure physicality of the sound Bailterspace produce live.
"It's a bit of an engineering feat for Bailterspace [to play live]. But there is nothing like a live gig. Nothing can beat it."
Parker is an interesting, somewhat mysterious character. Apart from making music he's vague about what he actually does in New York, offering up "freelancing in technology" as a job description and working in an office where "it's like walking on to the set of Star Trek".
When asked what's kept him in New York for so long, he offers: "One thing leads to another."
Though he does go on to talk about the "incredible diversity" of the people and that there is always something new going on.
Halvorsen moved back to Wellington five years ago ("I spoke to him last night. He's doing really well.") but Parker and McLachlan stayed on and continued writing and recording songs.
"We were just kind of getting a cool sound," he says.
Eleven of these new songs are on their latest album Strobosphere, released last month and their first in 12 or so years following Solar.3.
"The [songs] fit together so beautifully, and it's got that mysteriousness there, and it's got a lot of the same stuff as the other [albums] had."
A number of other songs - Parker reckons they've got perhaps three more albums worth - will be released at a later date, including an album with Halvorsen playing on it.
Over the years McLachlan has set up a series of recording studios in different neighbourhoods in New York, with Strobosphere recorded at his Williamsburg Studio in Brooklyn, and then his latest one in Manhattan.
"We just kept building up all this work, and I'm walking round town listening to it for the last few years and I had headphones on and I was really into it, and Brent was really enjoying it, and a few of friends who had were really enjoying it and the all of the sudden we got the opportunity to say well, 'we can share this now'."
Not that the songs are all old, with Blue Star and Live By the Ocean both written recently.
It's the scorching and dark Polarize that is most like the Bailterspace of old but Parker loves the title track.
"I listened to that yesterday and it's just got this amazing whirlpool of noise. And recording that was amazing, because we just went through so many stages with it. Every Thursday and Sunday I'd turn up to Williamsburg and we'd muck around with it, and it might be a bit dense and complex to get into straight away, but it's got some lovely deep noise in that tune."

LOWDOWN
Who: Bailterspace
Where & when: Laneway, Wynyard Quarter, Monday, January 28
New album: Strobosphere, out now
Essential listening: Tanker (1988); Thermos (1990); The Aim (EP) (1992); Vortura (1994); Capsul (1997)

- TimeOut