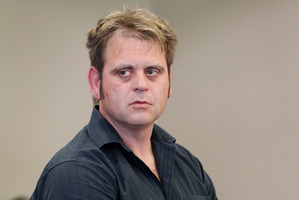 'New Zealand Idol' judge Iain Stables. Photo / Sarah Ivey
Former broadcaster Iain Stables says a judge's decision today to throw out a charge of threatening to kill against him was the right one.
The charge was dismissed at the Wellington District Court after Crown prosecutors produced no evidence to back up their allegation.
Outside court, Stables told APNZ said he was relieved the judicial process was almost over.
"As far as I'm concerned the allegations that were made were false from day one and this now essentially clears me, but needless to say it's caused a lot of damage along the way.''
He said the Crown dropping the last charge illustrated the strength of their case, "which in my opinion was not that strong''.
Stables was tried earlier this month at the Wellington District Court for that charge as well as assault charges, relating to an incident last year at his former girlfriend's home.
The Crown told the court that Stables flew into a rage on March 20 last year when he was living with Kimberley O'Hagan in a flat at the front of her parents' property in the Wellington suburb of Seatoun.
Stables was told to leave Ms O'Hagan's flat after her mother, Marianne O'Hagan, found damage.
He admitted punching Ms O'Hagan's brother but said it was in self defence. He said he then tried to remove himself from the situation, and in the process, repeatedly drove into Marianne O'Hagan's car.
He was acquitted of assaulting his ex-girlfriend's parents, but guilty of assaulting her brother Martin O'Hagan.
There was no decision on the threatening to kill charge.
Today, the Crown said they would not retry that charge.
Stables acted for himself today because his his lawyer was overseas.
Judge Peter Hobbs discharged him and remanded him on bail to face sentencing in December for the assault charge.
After the hearing Stables said the plan for the future once sentencing was complete was to go back on air.
"I can tell you I'll be popping back up somewhere soon.''
Stables faced a charge of disorderly behaviour in July last year in relation to a separate incident at Auckland Airport.
The charge was dropped after the other person involved - Jetstar contract worker Patrick Joseph Ulberg - was found not guilty of assault.
- APNZ