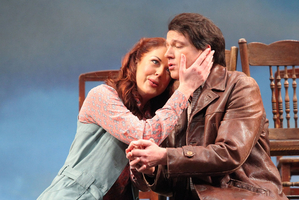 There is much to admire in Daniel Slater's The Bartered Bride, updating Smetana's 19th-century peasant marriage market to edgier times, a century on during the Prague Spring.
The opening chorus, lustily delivered, is an enthralling set piece, laced with delicious irony - the liberated folk celebrate freedom and happiness in regimented rows. In the middle of it all, Anna Leese's Marenka makes a tryst with Peter Wedd's handsome and suitably soulful Jenik.
Their romance unfolds through some of the most tuneful music you'll hear in an opera house. Conductor Oliver von Dohnanyi and Auckland Philharmonia Orchestra inspire the cast by never losing the lilt and flow.
Conal Coad is a wily Kecal, a sinister marriage broker for new times. A master of canny characterisation, he is the dramatic kingpin of the evening, more convincing in buffo patter than in more sustained lines.
Marenka's family, led by Patricia Wright's Ludmila, starts its negotiations. Few singers could match Wright's essential warmth; it contrasts well with Helen Medlyn's Hata, the other in-law-to-be, making her entrance with a Maria Callas hairdo and a temper to match.
Andrew Glover has the trickiest task, playing Vasek, so often cast as the village idiot. Tall and lanky, the tenor clowns and even dons a bear suit, with arias so beautifully phrased the character's stuttering genuinely touches.
The third-act circus is a coup, complete with acrobatic dazzlement. We appreciate the ingenuity of Robert Innes Hopkins' minimal set.
Jeff Kingsford-Brown's ringmaster knows the glint of good cabaret, jesting about the wit of Stalin and the warmth of Siberia, and Taryn Fiebig's Esmeralda combines skilled mime and a clear soprano.
Anna Leese's great third-act aria, in which Marenka is devastated by Jenik's seeming unfaithfulness, stands out. Introduced by a marvellously pointed sextet from the two families, Leese enters an emotional terrain in which toe-tapping polkas have no place. Bathed in cool blue by Simon Mills' lighting, she gives us a stunning testament of what opera is all about.
What: The Bartered Bride
Where: Aotea Centre
When: 22 - 29 September