Heat on Mad Men and Modern Family to repeat past glories.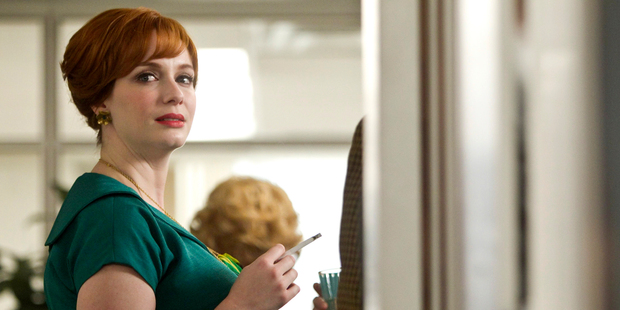 Mad Men's Christina Hendricks is nominated for best supporting actress. Cult retro series Mad Men and comedy hit Modern Family are Emmy favourites again today - but a bunch of newcomers could yet produce surprises at US television's annual awards show.
Mad Men, which has won best drama every year since its 2007 premiere, is vying for the biggest prize once more, along with a brace of others from its 17 nominations at today's Primetime Emmy Awards ceremony. The show is up against Boardwalk Empire, Downton Abbey, Breaking Bad, Game of Thrones and Homeland for the top gong.
With 11 nominations, the big-budget epic series Game of Thrones is hoping to follow up on its success at the recent Creative Arts Emmys - the technical trophies - where the fantasy drama swept the board.
Thriller Homeland is only in its first season but has earned rave reviews and nine Emmy nominations. Modern Family hopes to win its third straight best comedy series Emmy. But it faces competition from The Big Bang Theory, Curb Your Enthusiasm, 30 Rock and newcomers Girls and Veep.
The comedy/drama Girls has been a hit with viewers and critics alike, and could produce an upset.
The long list of Mad Men nominees includes Jon Hamm for best actor, Elisabeth Moss for best actress, Jared Harris for best supporting actor and Christina Hendricks for best supporting actress.
Overall, Mad Men collected 17 nominations, one more than Downton Abbey, which last year won in the miniseries category.
Up for best miniseries or TV movie are American Horror Story, Game Change, Hatfields & McCoys, Hemingway & Gellhorn, Luther and Sherlock: A Scandal in Belgravia.
American Horror Story racked up 17 nominations in all, including best actress (Connie Britton), another for best supporting actor (Denis O'Hare), and two for best supporting actress (Frances Conroy and Jessica Lange).
In the race for best competition reality show are the Amazing Race, Dancing with the Stars, Project Runway, So You Think You Can Dance, Top Chef and The Voice. Trailing with just three minor nominations is Glee.
Missing from the nominees' lists, unveiled in July, was American Idol.
Its host Ryan Seacrest is nevertheless among the nominees for best host of a reality programme - as is Betty White, still going strong at 90, for Betty White's Off Their Rockers and Kiwi Phil Keogan for The Amazing Race.
What: The 64th Emmy Awards
When: Screening on Vibe from midday (live); 7.30pm highlights; Prime 9.35pm
* nzherald.co.nz will have full coverage of the Emmys, including updated photo galleries, live blogs and all the winners as they are announced.
- additional reporting: AAP