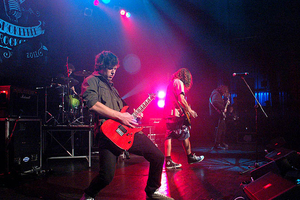 A Nelson band has won the Smokefree Rockquest - the second year in a row a band from the city has won.
Three-piece folk jazz band New Vinyl named the winner at the national final in Hamilton last night.
The Nelson College band - made up of year 12 and 13 students Ed Palmer (double bass), Alex Farrell-Davey (guitar and vocals) and Allister Meffan (accordion and trumpet) - won $10,000 worth of instruments and a NZ On Air new recording and music video grant worth more than $10,000.
"When we heard the other finalists we didn't think we'd win - they were so talented, but we are really stoked,'' Farrell-Davey said.
Rockquest founder and director Pete Rainey said although the competition was organised from Nelson, it was completely outside the judging process.
"We can be really proud that Nelson kids are getting great support from their teachers and from this event,'' he said.
Last year The Peasants from Nelson's Garin College won the competition.
This year's second place went to Auckland pianist and singer Indi, 18, from ACG Senior College.
Third place went to acoustic duo Luke and Amberly from Kamo High School, Whangarei.
- APNZ