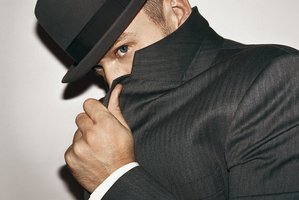 Justin Timberlake had a Rat Pack-themed bachelor party.
The singer and actor - who is engaged to actress Jessica Biel - decided to celebrated his last few nights of freedom by going to Las Vegas with a group of friends, where they spent yesterday evening partying in the Surrender Nightclub at Encore Las Vegas.
The group - all dressed in retro suits - dined at Sinatra Restaurant in the Wynn hotel before going to the VIP section of the club just before midnight.
A source told okmagazine.com: "Justin was all smiles but stayed hidden inside the private enclave.
"He was sipping on 901 Tequila throughout the evening but his posse were seen enjoying vodka and Red Bull shots all night."
Timberlake proposed to Jessica last year, following a brief split, and although it was claimed they had tied the knot in a secret ceremony last month, the story was quickly denied.
Biel recently said she had done "almost nothing" to prepare for the big day.
"I'm just enjoying being engaged. I do feel like there is a lot of time and nothing needs to be rushed."
- BANG! Showbiz