Next week's staging of Smetana's 1866 opera The Bartered Bride updates it to 1972, adds a circus and tosses in plenty of humour.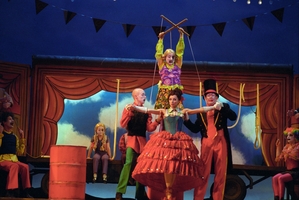 Daniel Slater, in town rehearsing NBR New Zealand Opera's upcoming The Bartered Bride, is no stranger to the company or the country.
The Englishman first visited us in 2004, setting Donizetti's The Elixir of Love in the 1980s, taking place during the day of the annual prom at Napa Valley High. It was a witty and stylish concept, cleverly carried through, with everything from a chorus of cool chicks and geek guys to Kiwi bass-baritone Paul Whelan in full leathers, playing Dulcamara, the peddler of potions.
Twenty years ago, at Cambridge University, Slater seemed to be destined for a theatrical career.
"I had been directing a lot of plays there," he says. "Then, out of the blue, I was asked to do Eugene Onegin for a very small opera company and I fell in love. I had no idea what I was doing. I found myself expecting the singers to have the same needs and talents as the actors I was used to, but they were different."
It was a difference pursued when he joined Opera North, making his mark with an acclaimed 1998 production of The Bartered Bride, the same one about to open in Auckland.
Slater muses on the shortcomings of straight theatre for him.
"There are the inevitable restrictions of being set in one room, with a few characters and the need to be very naturalistic. That wasn't where my talents as a director lay. I wanted to tell stories on a big scale."
Over the next two decades, Slater's many productions on both sides of the Atlantic would include a well-received Wozzeck for Santa Fe Opera in 2001, revived only last year. Berg's masterpiece is the sort of repertoire many of us pine for in this country, especially when, just a few years back, we sent three of our finest singers over the Tasman to be in the opera. Should we have more faith in the power of these works?
"Well, Santa Fe Opera was worried at first and reduced the first season from five to four performances because they thought it wouldn't sell. As it happens, all four sold out. I feel that audiences are open to this sort of opera - it just has to be given to them."
Yet Slater's most challenging assignments have been the more traditional operas. "Everyone thinks The Magic Flute and Don Giovanni do themselves, but the audience's expectations are so high and the pieces so problematic that it's hard to have those expectations met."
So often, Slater points out, the issue is whether to update or not. "I always consider my approach in terms of the best way to tell a story. Inevitably that tends to lead me down a path more likely to favour a contemporary setting than not," he smiles.
"It's not updating for its own sake. I just look and see what the opera does for me and how I can then convey this to the audience."
Next Saturday's The Bartered Bride is a case in point, bringing Smetana's 1866 opera forward to 1972, four years after the Prague Spring that saw Czechoslovakia temporarily free itself from the shackles of Eastern bloc oppression.
"This is one of the most fantastic feel-good operas ever written," Slater enthuses. "Even if it goes through stages where the story is incredibly painful.
"The playwright Alan Ayckbourn once said that comedy is tragedy averted and that's the case here. After you've been to a quite dark place and seen it all, you're all the more satisfied when you come out the other side."
Dazzlingly mounted, The Bartered Bride reaps the benefit of the director and his designer Robert Innes Hopkins being sent to Prague for a week by Opera North back in 1998 to gather a veritable storehouse of visual material. "It was a wonderful collaborative experience," Slater remembers.
The new setting has necessitated something of a re-think with certain characters such as Kecal, the wily marriage-broker. "Kecal is sometimes played as a conventional 19th century marriage-broker, as a bumbling drunk or a buffo character," Slater explains. "The strength of our Kecal is that he's played by Conal Coad who makes such a charming villain that it can be disconcerting for the audience. At the end of the show we're hoping that you'll hate and love the man in equal measure."
Musically, The Bartered Bride is "uniquely Czech and so joyous", Slater exclaims. He mentions a few highlights but decides "it's the whole that makes it work, not individual numbers".
He is particularly pleased to be doing it in English.
"After all, it is a comedy. It should hit the audience between the eyes, and when you want to land a joke it's better to do it with sung or spoken words than surtitles."
Gone are the cumbersome recitatives that Smetana added to the score four years after its premiere.
"These were very, very bad," Slater says. "We've replaced them with dialogue which means we can write whatever we want. So we can change a rather silly, rural comment about an expected dowry into, 'She runs a tractor, that's quite a factor"'.
As for Slater's theatrical coup of the Act III circus, not only is it a "spectacular piece of anti-regime protest", but "it will take the audience to another place and set them up for the rest of the evening".
What: The Bartered Bride
Where and when: Aotea Centre
September 22, 27 and 29 at 7.30pm; September 25 at 6.30pm