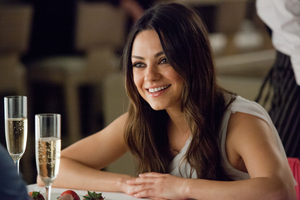 Mila Kunis had to be rescued by firefighters after she became stuck in an elevator for 45 minutes.
The Black Swan actress was in a New York building on Sunday when she and 10 other people were trapped but those present said Mila and her friend remained calm throughout the ordeal.
A source told the New York Post's Page Six: "They were stuck in the elevator for 45 minutes, and it became very hot in there, but Mila and everyone else remained calm. There were fire trucks outside, and firefighters helped them get out."
Mila is currently dating Ashton Kutcher and it was recently revealed the pair are planning to adopt a dog together.
A friend of the pair said: "Mila and Ashton have been touring shelters looking for an abandoned dog that needs a loving home.
"They have their hearts set on a big dog - either a golden retriever or a Labrador."
Mila and Ashton first met 14 years ago when they co-starred in hit sitcom That 70s Show, and the pair rekindled their spark after he split from wife Demi Moore.
- Bang! Showbiz