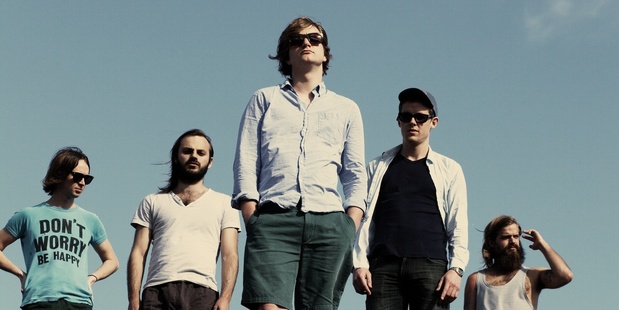 Something sad happened last week. The Checks, one of New Zealand's best bands, called it quits after 10 years. It's a crying shame, man. For starters, I never felt the five lads from the North Shore got the attention and that all-important break they deserved.
So they were never a big-name local band like Six60 or Shihad. Their hooting, howling, smouldering and trippy, The Who and Rolling Stones by way of Howlin' Wolf and the Stone Roses-influenced music was never going to be big in New Zealand because, in general, we prefer our rock 'n' roll bands a little more straightforward.
But they should have been bigger. They made some of the best, arse-shaking, interesting rock around. And Ed Knowles' snarling, soulful yowl is a devilish piece of work.
Live they were wild, cocky, and riveting. In their time they supported R.E.M, Muse, Oasis, the Killers and AC/DC, among others. And over the course of three albums they just kept getting better.
After wearing their influences on their sleeves - but giving them a bluesy dance rock shake-up - on debut Hunting Whales, they released their second and most accessible album, Alice By the Moon. By last year's third album, Deadly Summer Sway, they had started experimenting more and their music had taken on a newfound depth - yet oddly they sounded more like the Checks than ever.
The excellent Candyman Shimmer transports me back to a blissfully irresponsible time, when I used to mooch around in baggy jeans to the Stone Roses and Happy Mondays, whereas the dark, dirgy soul rock of Black Frog is a cool, swaggering beauty.
As you can probably tell, the Checks hold a special place in my heart. And here at TimeOut we like them a lot too, with the band making the cover three times over the years.
The first was in 2005, when I sat the five "hot young things" down to talk about music, their influences and their future with "established artist" and "old fart" Dave Dobbyn. They had just been nominated for their first Tui. Dobbyn was up for his umpteenth, and that day they bonded over jazz (I remember guitarist Sven Pettersen recognising Misterioso by Thelonius Monk playing as he walked into Dobbyn's recording studio), the Rolling Stones, and a love of distortion.
Dobbyn's advice back then was this: "You've got a whole fuel tank of spontaneity that's busting out all over. Put it on wheels and go for it."
And the Checks did. A couple of years later I visited their flat in London. It was mid-2007, they had been there for a year trying to break into Britain and the rest of Europe. It was going okay, and they seemed happy living a slightly slovenly and hard gigging rock 'n' roll existence, but the signs of how hard it was were obvious. Two days before the interview they had played a show in Sheffield to 10 people.
"It's cool though," said Pettersen at the time, "because there's something special about people seeing you for the first time, because you get to see whether they get it, as opposed to someone who knows the songs already."
But a while later they packed it in and headed home. I can't help but feel if they had stuck it out overseas for a little longer they may have worked out. Then again, who knows, maybe it would have ended even quicker than it did, given the pressures of trying to crack the big time. Not that that was ever their ultimate goal, because if there's one thing about the Checks it's the fact they are more than happy in their own skinny jeans.
The last time they were on the cover was last year, with the release of Deadly Summer Sway - their best album to date.
But now they've called it quits. There was no indication of why in their brief statement. Maybe they just needed to move on. Because that old rock 'n' roll cliche that being in a band is like a marriage never rings more true than when you've been in a group with your mates since you were 15.
The thing is, they're only in their mid-20s and, like Dobbyn's Th' Dudes before them, who also played loud and shone bright as youngsters before splitting up, we will definitely be hearing more music from the Checks chaps.
-TimeOut