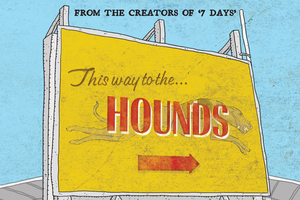 Critically acclaimed TV3 comedy show Hounds has been released on DVD, and you could win a copy of it right here!
When his father dies, lawyer Will Carrington (Toby Sharpe) inherits half a house, guardianship of his estranged half-sister Lily (Susana Tang) and a share in a racing greyhound with live-in trainer Marty (Mick Innes).
Hounds has been lauded by critics, with the Herald on Sunday's Nick Grant saying: "I watched the six-part series in its entirety three times: firstly out of diligence, secondly to make sure it was as good as I thought it was, and thirdly for the sheer, absolute joy of it."
Thanks to Vendetta Films, nzherald.co.nz has five copies of Hounds on DVD to give away. Enter the competition below to win a copy, and sign the petition for a second season right here.
- Herald online