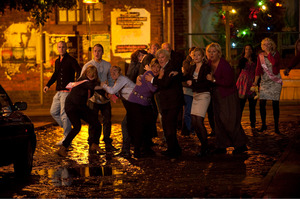 The December 2010 Coro tram crash episode played only recently in NZ and the show will now get further behind. Photo / Supplied
TVNZ is axing an hour of popular soap Coronation Street from next week.
Saturday screenings of the long-running drama will be dropped from September 1 - and replaced by Come Dine With Me, a series about British strangers competing for the title of ultimate dinner party host.
The axing means New Zealand will again rapidly fall behind the contemporary series. Even with the addition of Saturday screenings, New Zealand was about 19 months behind UK transmission dates.
Are you a Coronation Street fan? What do you think of the decision to drop an hour from the schedule? Send us Your Views.