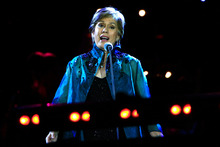 Everybody loves a trophy. Events over the past month in London show that, for its size, New Zealand is good at winning them.
I don't have a trophy cabinet - I've never had the need or more accurately the silverware. But in a household shift recently, I did come across a trophy from my days of crossing swords with a genuine diva.
It was 1990 and my client, the Bank of New Zealand, was coming out of a long period of recovery after record losses. It felt it had to reconnect with ordinary New Zealanders and a strategy was developed to bring Dame Kiri Te Kanawa home for three concerts.
Kiri had been away for some years, vowing not to return until we built a real Opera House.
At the behest of the BNZ, she changed her mind and her free "homecoming" concerts attracted huge audiences.
Kiri also staged two private recitals for VIPs and glitterati and this is where my trophy - a black block about the size of a Rubik's cube - took centre stage.
The famous Dame sang to a highbrow audience, accompanied only by a solo pianist.
To achieve the appropriate acoustics for such a small hotel function room and a grand piano, it was necessary at times during the recital to shift a wooden block to elevate the lid of the piano into a position in which the sound would be louder when Kiri was singing and quieter when the pianist was playing solo.
I was tasked with the job of re-positioning the block according to the acoustics required.
It felt like the whole sound quality of the recital rested on my shoulders.
Moments before the performance was due to start, I was distracted by one of the VIP guests who suffered from chronic emphysema which caused him an uncontrollable coughing fit.
I had to carry him from the room - which caused me to miss Kiri's opening song and subsequently the first re-positioning of the block.
As Kiri disappeared off stage I proceeded on stage and moved the block to what I thought was the required position. I told her I had moved the block.
When Kiri didn't react, I repeated "I have moved the block". Kiri reacted sharply, turning to her husband and manager, Des Park, in panic with "Des, he's moved the block!"
Park joined the panic, turning his attack on to organiser Paul Gleeson.
Gleeson looked for his target which was unfortunately me and repeated: "You've what? You've moved the block! Get the block back where it was!"
So in a moment of pure humiliation in front of 50 of New Zealand's most influential people from Prime Minister Jim Bolger down, I had to re-mount the stage after the briefest of interludes and re-position the block to its original position.
This created havoc in the sound technicians' room. They had completely reconfigured the whole sound profile when I came on stage the first time - and had to switch it all back as they saw me make another unscheduled change to the running order.
It's fair to say things were somewhat frosty between Kiri and me for a long time after.
But in the manner of a diva, which she truly is, years after a package arrived on my desk at the office.
Inside was a black wooden block about the size of a Rubik's cube with gold writing, "To Blocker Boyle from Kiri".
To this day, it remains my only trophy.