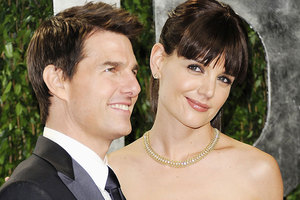 Tom Cruise's loved ones have urged him to slow down following reports the star has lost weight since his divorce split with Katie Holmes.
Following his split in June family and friends are concerned about the Mission: Impossible star, who has been focusing fully on his career since the separation.
Britain's Grazia magazine reports: "Tom's friends and family have urged him to take a break, but he has brushed off their concern.
"He is refusing to slow down and is trying to soldier on. He doesn't seem to be himself. He hasn't been working out like he normally does and doesn't appear to be eating well at all. His clothes just hang off him."
Cruise's hectic schedule could even be affecting his relationship with his friends for the worse.
The source went on to say: "His way of dealing with this is to throw himself into his work, but as a result he's not looking after himself and he risks cutting himself off from people who care about him and want to make sure he's okay."
The 50-year-old father-of-three has reportedly lost 6kg.
The death of his Top Gun director colleague Tony Scott could only make matters more complicated.
The actor released a statement saying: "Tony was my dear friend and I will really miss him...
"My deepest sorrow and thoughts are with his family at this time."
Meanwhile, Cruise and Holmes are officially divorced.
The Rock of Ages actor and the former Dawson's Creek actress' five-year marriage came to an end on Monday after a New York judge signed off on the final judgement, according to legal papers obtained by E! News.
The news comes less than two months after Holmes officially filed for divorce, in a move that left Cruise "blindsided".
The former couple entered negotiations almost straight away and last month a settlement was agreed with Holmes being given primary custody of their six-year-old daughter, Suri, and Cruise getting extensive visitation rights.
The pair married in a lavish ceremony in Italy in November 2006 after meeting in April 2005.
Daughter Suri was born in April 2006 and played a star role in their nuptials.
Holmes and Suri will be living in New York while Cruise will split his time between there and Los Angeles.
The 50-year-old star - who was previously married to Mimi Rogers and Nicole Kidman - has two children, Isabella, 19, and 17-year-old Connor, with Kidman and they are based in Beverly Hills.
- Bang! Showbiz