Penelope Cruz dresses up as a computer game character, Azealia Banks gets NSFW and the awesome Seven Psychopaths trailer is included in this wrap of today's best web links.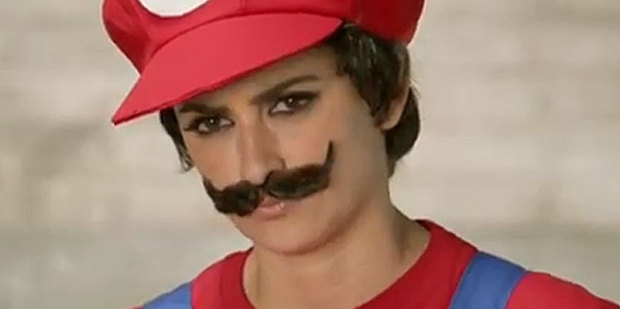 1. If you've ever wanted to see Penelope Cruz dressed up as a Super Mario bro, now's your chance. The Hollywood hottie stars in a new Nintendo ad with her sister Monica, in which she is forced to dress as the plumber Mario from the classic platform game after losing a bet, complete with moustache, hat, suspenders and bad accent. Check out the ad here. (Bang! Showbiz & YouTube)
2. If you like films like In Bruges and The Guard, then new movie Seven Psychopaths could be right up your alley. Starring Colin Farrell, Christopher Walken and the always brilliant Sam Rockwell, it's about a group of petty crim dognappers who end up fighting a gang of major criminals after kidnapping the wrong dog. We've all been there. Check out the trailer here.
(YouTube)
3. Wondering what hipster metallers Mastodon sound like covering Canadian songstress Feist song? Your answer is: Ridiculously awesome. Here's the collaboration Feistodon, a heavy metal cover of Feist's A Commotion. "Mastodon? needs to make an entire album of Feist covers," says one YouTube viewer. Agreed. (YouTube)
4. Now for some NSFW stuff: If you don't know who the band Pussy Riot is, you obviously don't read nzherald.co.nz enough.Catch up with this story, then check out the new protest song Free Pussy Riot featuring Peaches, Lykke Li, Miike Snow and many, many more in a smorgasbord of hipsters calling for the band's freedom.(Stereogum)
5. Also NSFW is the banned Azealia Banks cover image for Dazed and Confused's latest edition. Get ready to be offended and click here. And her new video for the song Van Vogue is pretty raunchy too. (Huffington Post and YouTube)
6. Link dump: Soon-to-be-in-New Zealand band Grizzly Bear play for Stephen Colbert courtesy of Pitchfork, Stereogum names and shames more indie stars in videos before they were famous, the trailer for Lena Dunham's Nobody Walks is on Apple and Ron Swanson sings a weird country song. (Various)
7. If you only watch one music video today, make it Black Moth Super Rainbow's Windshield Smasher, a video that examines what could happen if your car's GPS system malfunctiones. Warning: Includes forced beard removal. (Consequence of Sound)
8. I don't know why, but the ridiculous song We Are Farmers from comedy musical act Three Loco reminds me of The Office's Dwight Shrute. Featuring a cameo from Diplo, it's super catchy and takes Kanye West's Zach Galifianakis-starring clip for Can't Tell Me Nothing to absurd heights with lyrics like, "This is agriculture, I grab a vulture". It's sparking a new rap genre that I like to call Farm-hop. Warning: Song lyrics and video is definitely NSFW. (YouTube)
9. Like most people, I was pretty excited about the recent Mars landing. So here's the hip-hop soundtrack to Curiosity's landing, We're Nasa and We Know It. I could be wrong, but I'm pretty sure none of these guys actually works for Nasa. (YouTube)
10. Yuss, you made it all the way to the end. Your punishment is this trailer for new reality show Here Comes Honey Boo Boo. You have been warned. (YouTube)