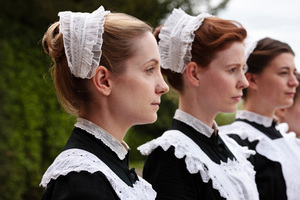 The stars of the hit British TV show Downton Abbey have been ordered to burn their scripts after memorising their lines to avoid a storyline leak.
The stars of the popular period drama started filming the highly-anticipated third series in February and it is due back on US television screens later this year.
Actress Amy Nuttall, who plays housemaid Ethel Parks, has revealed TV bosses were going to great lengths to keep the show's plot under wraps - and they even ordered cast members to destroy their scripts after reading them.
"We're all under very strict instructions to keep the scripts safe. We have to shred or burn them as soon as we have memorised them. We can't just throw them in the bin in case they end up in the wrong hands... I get so terrified when a script comes through the door. I worry I'm going to leave it on a train or in a taxi," Nuttall has told Britain's Daily Star newspaper.
The actress admits members of the cast are also banned from talking about the show with their loved ones. "The producers are so strict about what we can say because it's such a big show. You can't even tell friends or family what is going to happen... I get really scared I'll say something by mistake.
"I know I'd get into a lot of trouble ... I have to be careful."
-WENN