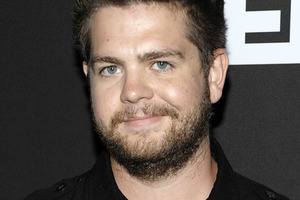 Jack Osbourne's fiancee is demanding fans boycott America's NBC network amid allegations the reality TV star was dropped from a new strength-training show following his recent multiple sclerosis diagnosis.
Jack's mum Sharon Osbourne sparked the controversy after announcing she was quitting her role as a judge on another NBC program, America's Got Talent, at the end of this season.
She claimed she felt compelled to resign when she learnt her son had reportedly been dropped from the line-up for Stars Earn Stripes after he announced in June that he had been diagnosed with multiple sclerosis.
NBC bosses responded to the accusations on Monday, insisting Jack Osbourne had never been asked to compete on the show, although he had been offered other jobs on the series which he had turned down.
The NBC statement said: "We hold medical information in strict confidence and therefore cannot comment specifically about Jack, but as a company that cares deeply about the health and safety of everyone on our shows - especially one like Stars Earn Stripes - that requires dangerous water stunts, strenuous physical activity, and uses live ammunition - we required all potential participants to undergo medical vetting to ensure that they could safely participate ...
"This network does not discriminate on any basis.''
However, Osbourne has taken offence to the suggestion that his multiple sclerosis would hamper his ability to perform, and took to his Twitter blog on Tuesday to fire back.
"I took part in a 16hr challenge over 30 miles (48km) with a 40lbs (18kg) ruck on my back in Jan. I had MS then. Don't tell me wot physically demanding is," he wrote.
Osbourne's fiancee Lisa Stelly wants fans to turn their backs on NBC. In response to the network statement she has tweeted: "Liars! bull-f**king-s**t. boycott NBC."
- WENN